Print Friendly Version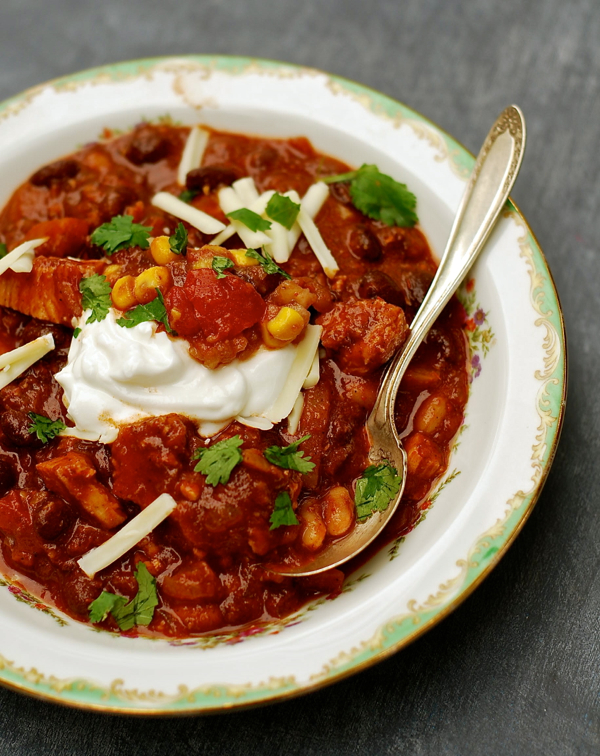 This is a recipe I created that was inspired by a much simpler chili by Mark Bittman. He uses minimal ingredients in his, which makes sense, because he's called The Minimalist. I'm not, and therefore, I kept adding ingredients and tasting the chili until I realized that the only things left in the kitchen were the cats and the kitchen sink 😉 At any rate, this chili really did turn out spectacular.
It's especially good served over Robin's Cornbread. I made a double batch of the cornbread in a 9 x 13 cake pan so the pieces would come out thinner. I put a slice of the cornbread in each person's soup bowl, cut it into 2-inch pieces, shredded Monterey Jack cheese over the bread chunks and then ladled the hot chili over the top of everything. Oh. My. YUM. Taste and see for yourself…
3 Tablespoons extra virgin olive oil
1 large onion, chopped
3 large garlic cloves, minced
1 orange bell pepper, coarse chopped
1 yellow bell pepper, coarse chopped
1 jalapeno pepper, minced
5 Roma tomatoes, chopped
1/4 cup chili powder
2 teaspoons whole mustard seeds
1 Tablespoon cumin
1 Tablespoon dried oregano
*2 and 1/2 cups chicken stock (or vegetable stock if you're doing the vegetarian version)
23 oz. tomato puree OR crushed tomatoes
1 cup dry red wine
3 Tablespoons apple cider vinegar OR balsamic vinegar
1/2 cup brewed espresso (I used "Coffee on the Porch" Camden Maine espresso)
2 chipotle peppers in Adobo + 1 Tablespoon of the sauce from the can
2 Tablespoons ponzu sauce or lite soy sauce
3 (15 oz.) cans organic black beans, drained and rinsed well
1 (15 oz.) can organic great northern beans, drained and rinsed well
*1 lb. well-browned ground turkey OR 3 large, cooked chicken breasts, shredded or cubed
3 Tablespoons white or brown sugar (to cut the acidity)
1 Tablespoon unsweetened cocoa powder
1 teaspoon cinnamon
Heat olive oil over medium heat. Add onions and cook until golden and tender. Add garlic and cook an additional minute before adding: bell peppers, jalapeno, tomatoes, chili powder, mustard seeds, cumin and oregano. Cook for 5 minutes, stirring frequently.
Add: stock, tomato puree, wine, vinegar, espresso, chipotles, adobo sauce and ponzu. Stir well. Add: beans, cooked chicken/turkey, sugar, cocoa powder and cinnamon. Stir well.
Bring to a boil and then reduce heat to low. Simmer gently, uncovered, for 30 minutes. Serve hot with any or all of the following toppings: cowboy caviar, salsa, pico de gallo, chopped fresh cilantro, plain greek yogurt or sour cream, shredded Monterey Jack cheese, Robins Cornbread.
* for vegetarian version: omit meat and use vegetable stock instead of chicken stock
Enjoy!
~Melissa
You may enjoy these related posts: