Print Friendly Version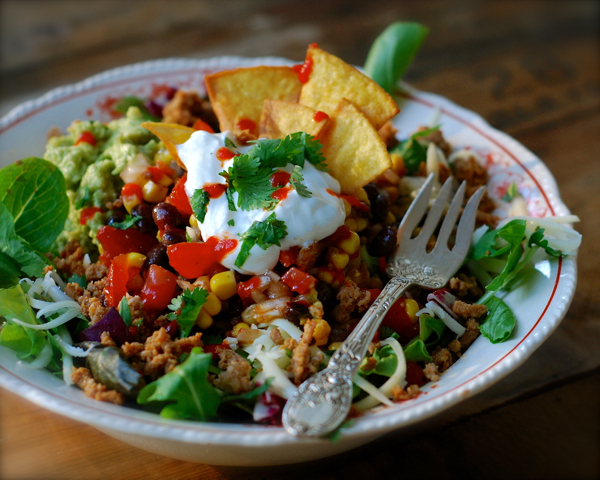 Taco Salad is such a delicious, healthy meal when it's prepared with both taste and nutrition in mind. There's no need to load this salad down with salt and fat. The rich, fresh ingredients all taste awesome when paired with the classic Mexican spices and textures.
This is, hands down, one of my favorite things to eat.
~ Serves 4 ~
6 cups spring greens or baby spinach
1 lb. ground turkey taco meat (recipe below)
1 can black beans, rinsed and drained well
4 Roma tomatoes, seeded and chopped
1 can sweet corn, drained well
corn chips (homemade or store bought)
1 batch guacamole
6 oz. shredded Monterey Jack cheese
1/3 cup plain greek yogurt or sour cream
lime and/or lemon wedges
Sriracha, Tabasco (or your favorite hot sauce)
1/4 cup chopped, fresh cilantro
for the turkey taco meat:
1 small onion, chopped fine
1 lb. ground turkey
2 Tablespoons chili powder
1 Tablespoon cumin
1 teaspoon chipotle powder OR smoked paprika
1 teaspoon salt
1 teaspoon onion powder
1 teaspoon freshly ground black pepper
1/2 teaspoon garlic powder
1/4 teaspoon cinnamon
First, prepare the taco meat: Heat the olive oil in a large skillet. Add the finely chopped onion and cook until tender, translucent and slightly browned. Add the ground turkey and cook until the meat is completely cooked. Add the rest of the spices and cook until heated through. Remove from heat and set aside.
To Layer the Taco Salad Bowls:
Place equal amounts in 4 large salad bowls:
a large handful of the salad greens
1/4 of the taco meat/onion mixture
1/4 of the black beans
1 of the chopped Roma tomatoes
1/4 of the sweet corn
crumbled corn chips
a dollop of homemade guacamole
1/4 of the shredded Jack cheese
a dollop of the greek yogurt OR sour cream
lemon and lime wedges for squeezing over the top of your bowl
hot sauce (to taste)
chopped cilantro (to taste)
Enjoy!
~Melissa
You may enjoy these related posts: