Print Friendly Version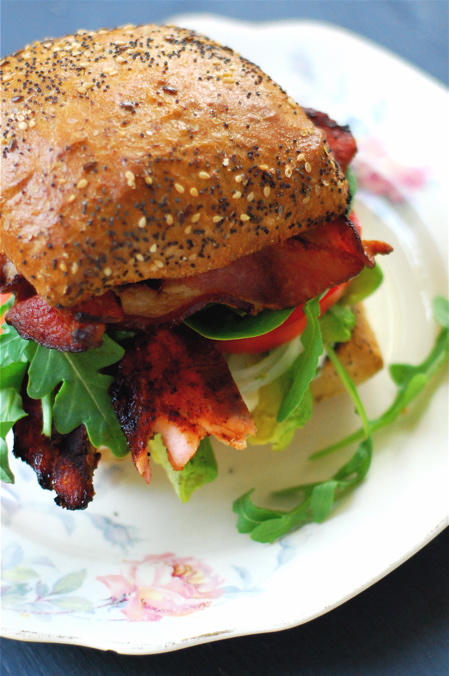 ~ grilled salmon BLT ~
There's just something about a BLT in the summer, wouldn't you agree? We usually make them "wrap" style…or breakfast style…and it got me thinking about one I had tried at a restaurant when we were on vacation in Florida a few years ago. It was served on a crusty, chewy ciabatta roll and topped with a grilled piece of fresh salmon. Our version of this sandwich turned out fantastic…with the addition of a very special rub on the salmon, Parmesan mayonnaise, avocado and onions. YUM!  If you're a salmon fan, I think you're going to love this!
buttered and grilled ciabatta rolls (we used multi grain)
baby spinach/arugula mix or iceberg lettuce
thinly sliced Roma tomatoes
mayonnaise mixed with a little freshly grated Parmesan cheese and freshly chopped basil
fresh, spice-rubbed, wild salmon fillets
applewood smoked bacon, fried crispy
avocado slices
thinly sliced onion
for the salmon rub:
1/2 cup brown sugar
2 Tablespoons smoked paprika
2 Tablespoons chili powder
1 teaspoon ginger
1 Tablespoon garlic powder
1 teaspoon cumin
2 Tablespoons freshly ground black pepper
1 Tablespoon coarse sea salt
Blot salmon fillets dry and apply spice rub all over. Grill over charcoal. Remove to a tray and cover with aluminum foil. Grill the buttered ciabatta rolls until just toasted. Top with the Parmesan mayo, salmon fillets, avocado slices, tomatoes, onion slices, lettuce and bacon. Enjoy with firecracker sweet potato wedges!
HEALTHY MAKEOVER: If you'd like to try a healthier, lighter version of the above recipe….simply substitute a whole grain sandwich thin for the roll, turkey bacon for the applewood bacon, and light mayonnaise in place of the fully loaded stuff. Still amazing! Enjoy!
~Melissa
You may enjoy these related posts: