Print Friendly Version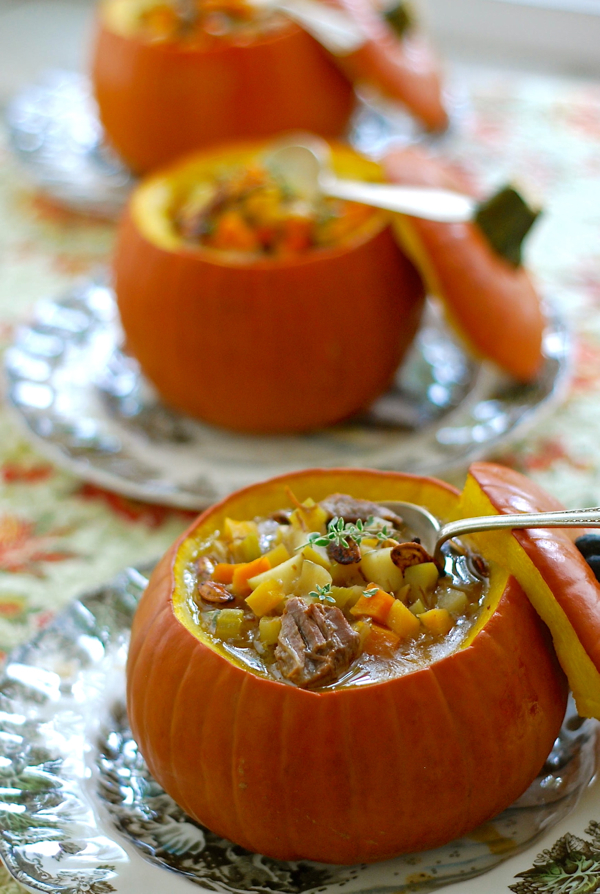 Every autumn my friend Bonnie would feature "Lunch in a Pumpkin," at her tearoom, "Tale of Two Sisters," here in Red Wing Minnesota. I use to work there and I so miss that place! The old house on West 7th street still speaks to me as I pass by every day on my morning walk. I remember going to work on rainy days like today. Shaking the rain off my umbrella and walking through the front door was magical. I remember being greeted by the scent of cinnamon bread baking and some wonderful soup simmering on the stove, and Bonnie singing "Hellooooo…." when she heard the front door bell ring.
The tearoom was housed in the Gust Lillyblad House in Red wing. The home, built in 1880 was a historically significant home, but more important, The Tale of Two Sisters was an oasis and place to relax for so many people. Me for one.
I didn't mean to get so sentimental, but as the scents of sugar pumpkins baking in my oven and cider stew cooking filled my home, I found myself transported back to that tearoom kitchen.Today Bonnie's inscription in the front of her beautiful cookbook brought a tear to my eye. It says:
"Melissa,
Our acquaintance goes beyond simply friendship. Thank you for being a huge part of my dream. Cook up a memory. Love, Bonnie"
So, my dear friends, I did. 🙂 Here's one of the best soups I've ever had, given to me by my friend, the Soup Goddess, Bonnie Tracy…
~Lunch in a Pumpkin~
~Cider Stew ~
I've made a few small changes to the original recipe because my family likes LOTS of beef in their stew. I also added a tiny bit of pumpkin pie spice and a generous "splash" of white wine… Feel free to double this recipe if you'll be feeding a crowd. The pumpkins can be made a few hours in advance if needed. Add the smallest amount of liquid suggested at first, and then at the end if you need to add more to make it more brothy, add more. Here's the detailed CIDER STEW POST with pictures of the whole process.
6 Tablespoons flour
1 to 2 teaspoons salt
1 teaspoon freshly ground black pepper
1 tablespoon fresh thyme
1 teaspoon pumpkin pie spice
2 lb. beef stew meat
6 Tablespoons extra virgin olive oil
2 to 3 cups real, orchard apple cider
1 to 2 cups beef broth
1/3 cup dry white wine
2 Tablespoons cider vinegar
1 stalk celery, plus greens, thinly sliced
1 large parsnip, diced
1 small rutabaga, diced
1 small sweet potato, diced
4 small carrots, diced
2 medium potatoes, diced
2 medium onions, roughly chopped
2 medium, tart apples, cored and diced
Blot stewing meat. In a paper bag, combine flour, salt, pepper, thyme and pumpkin pie spice. Add meat and shake to coat. In a Dutch oven, cook meat in hot oil until browned. Add cider, broth, wine and vinegar. Cook, covered for 1 and 1/2 hours, or until meat is tender. Add vegetables and apple. Cook about 30 minutes more, or until all veggies are tender.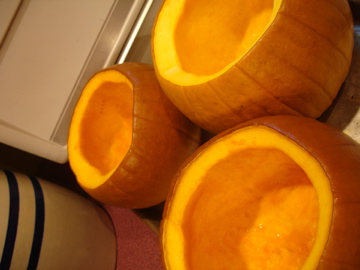 Wash outsides of single serving sugar pumpkins. Cut off tops, and scrape insides, reserving the pumpkin seeds. Rub insides of pumpkins with butter and bake at 325 degrees for about an hour. Be careful to remove pumpkins when they are tender. Don't over cook.
I found an interesting excerpt in a vintage Japanese cookbook I picked up at an antique store. It talks about the Japanese version of lunch in a pumpkin. Takara Mushi, (Treasure Ship Pumpkins) filled with steamed mushrooms, shrimp and veggies…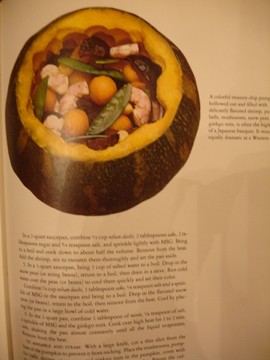 cool, huh?
Anyhoo…when your cider stew in done cooking, you can fill your pumpkins, and place them on your favorite autumn-themed china and garnish with freshly baked, seasoned pumpkin seeds
Enjoy!
~Melissa
You may enjoy these related posts: