Print Friendly Version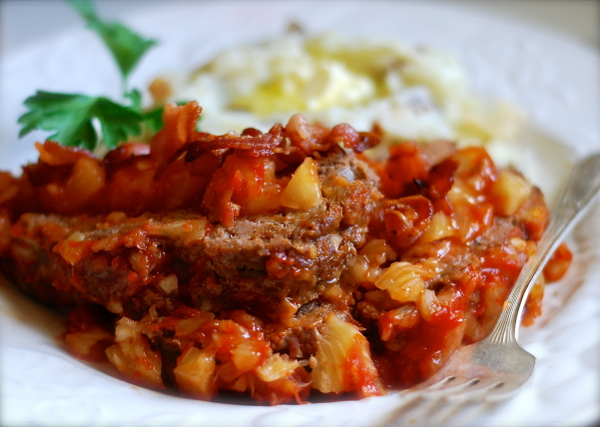 We've been getting LOTS of snow dropped on us this past week, and cold, snowy weather calls for comfort food! Meat loaf is a favorite in our house and I'm always looking for new recipes to try. I came across this in a vintage Heinz Ketchup cookbook, and thought I'd give it a whirl since I happened to have all the ingredients in my fridge and pantry. I made a few minor adjustments… I used Simply Heinz instead of the original Heinz ketchup because we don't eat high fructose corn syrup or corn syrup. I used a little ground pork in place of some of the beef, and I also doubled the pineapple sauce and saved half of it for topping individual slices once the meat loaf was plated. We like extra sauce, so this was a good call. Oh! And I fried up a little bacon and crumbled it over the plated meatloaf. It was soooo good with the pineapple!
for the meat loaf:
~ preheat oven to 350 degrees F. ~
1 lb. lean ground beef
1/2 lb. ground pork
1 cup soft, fresh, white bread crumbs
1/3 cup Simply Heinz tomato ketchup
1/4 cup finely chopped onion
1 large egg, lightly beaten
1/2 teaspoon sea salt
1/2 teaspoon freshly ground black pepper
1/2 lb. bacon, fried until crispy and crumbled (garnish)
Position a rack in the middle of your oven. In a large mixing bowl, combine: ground beef, ground pork, bread crumbs, 1/3 cup ketchup, onion, egg, salt and pepper. Form into a loaf and transfer to a 8×4 inch glass loaf pan, mounding it slightly. Bake loaf in preheated oven for 50 minutes, uncovered. In the mean time, mix up the pineapple sauce…
for the pineapple sauce:
1/2 cup Simply Heinz tomato ketchup
1/2 cup well-drained, crushed (canned) pineapple
In a small bowl, mix the ketchup and pineapple. Once the loaf has been in the oven for 50 minutes, spread half of the pineapple mixture over the loaf. Bake, uncovered, an additional 30 to 40 minutes, or until a meat thermometer registers 160 to 165 when meat loaf is tested in several places. Allow loaf to rest an additional 10 to 15 minutes prior to slicing.
To serve:
Once meat loaf has rested, slice and plate. Serve with the extra, warmed pineapple sauce and a little crumbled bacon. We love this dish with mashed potatoes! Serves 6
Enjoy!
~Melissa
You may enjoy these related posts: