Print Friendly Version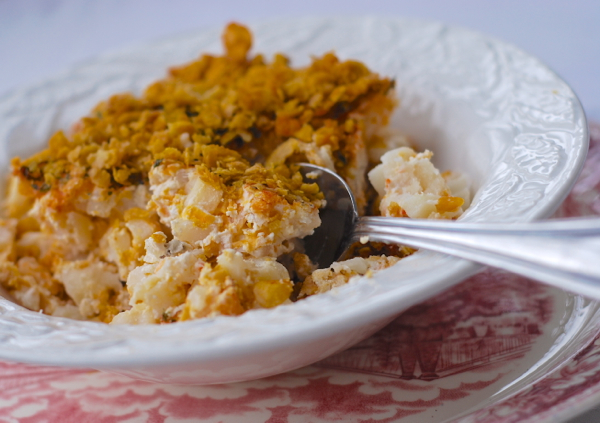 Hello, Lovelies! Here's a delicious classic that I've made dozens of times. My family loves it and I thought you might appreciate a recipe for a tried and true potato side dish. Serve this with Maple Pork Roast, Spiced Cherry Ham or your favorite holiday fare.
~ preheat oven to 350 degrees F. ~
32 oz. frozen hashbrowns (the diced kind)
1 can cream of mushroom OR cream of chicken soup (undiluted)
1/2 cup diced onion
1/2 cup melted butter, divided
2 cups sour cream
2 to 3 cups shredded cheddar cheese
2 cups crushed cornflakes
parsley, paprika and black pepper
In a large mixing bowl, combine: hashbrowns, cream soup, onion, 1/4 cup of the butter, sour cream, and cheddar cheese. Mix well. Spread into a buttered 9×13 glass baking pan.
Mix the remaining melted butter and the crushed cornflakes in a small bowl. Sprinkle them over the potato mixture in the pan. Top with a little parsley, paprika and black pepper. Bake for 45 minutes to an hour, uncovered, until golden, bubbly and very hot all the way throughout.
Enjoy!
~Melissa
You may enjoy these related posts: