Print Friendly Version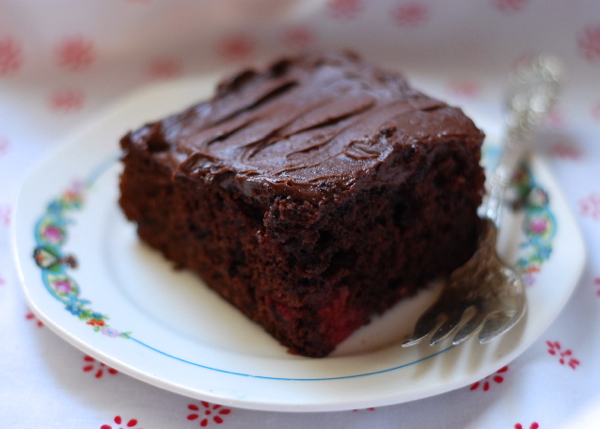 This is the easiest chocolate cake you'll ever make. I'm not usually a fan of boxed cake mixes, but this cake is amazing and only 5 ingredients! Ready? …
~ preheat oven to 350 degrees F. ~
1 (15.25 oz.) boxed chocolate cake mix (I used Duncan Hines)
1 (21 oz.) can cherry pie filling (I used Comstock Country Cherry)
3 large eggs, lightly beaten
1 teaspoon pure almond extract
1 container of your favorite chocolate frosting (or homemade buttercream)
Butter a 9 x 13 glass baking pan.
Combine the dry cake mix, cherry pie filling, eggs and almond extract in a large mixing bowl. Mix by hand, gently folding to incorporate all the ingredients without mashing the cherries. Mix it up just until everything is even and moist, a few lumps are okay.
Pour batter into the prepared baking pan and smooth the top with a rubber spatula. Bake at 350 for 30 to 35 minutes. Test with a wooden skewer. The cake is done when the skewer comes out with just a couple crumbs on it.
Cool completely before frosting.
Enjoy!
~Melissa
You may enjoy these related posts: