Print Friendly Version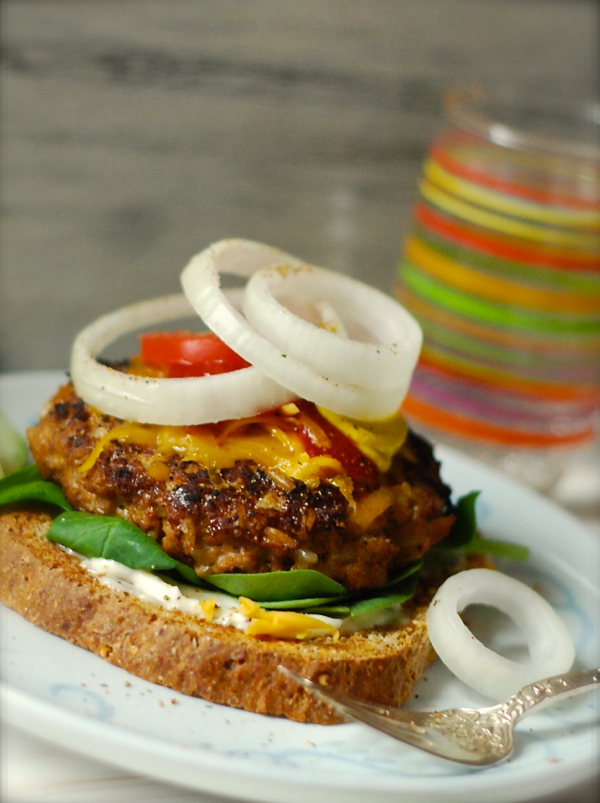 It's 20 degrees below zero today. When I woke up my nose was actually cold. Oh my, how I am pining for summer… lavender scented linens on the clothesline…grilling steaks… date night on the deck under the canvas umbrella… warm, moonlit walks around our neighborhood… shorts… flip flops… the beach and swimming quarry… opening all the windows to let the fresh breezes blow through the house… rain storms… farmer's markets… fresh heirloom tomatoes… gardening… concerts in the park… picnics… old movie showings at the Sheldon… watching fireflies at night while sitting on the screened in porch with a glass of white wine in hand… What are your favorite simple summer pleasures?
I was craving a char grilled burger last week and the yen would just not go away. Since I couldn't convince Jeff to stand in the sub zero temperature on the frozen patio to grill some up, I decided to just make some in our kitchen. I rarely do this, but it was an emergency. These turned out so good, even without the grill marks. They're healthy too! Woot!
~ preheat oven to 350 degrees F. ~
for the burgers:
1 and 1/4 lb. ground turkey
1 and 1/4 cups cooked brown or wild rice
1 large egg, slightly beaten
1 Tablespoon of your favorite steak sauce (we love Trader Joe's!)
2 teaspoons Mrs. Dash original seasoning
1 teaspoon smoked paprika
1 teaspoon garlic powder
1 teaspoon onion powder
2 Tablespoons olive oil for frying
Prepare brown rice according to package directions and cool slightly (or use leftover rice if you happen to have some in your fridge.)
In a large bowl, combine turkey, rice, egg, BBQ Sauce, and all seasonings. Mix well, using your hands. Divide mixture into 5 equal parts and form into patties.
Heat oil in a large, nonstick skillet over medium-high heat. Add the patties and sear both sides (about 1 to 2 minutes per side.) Place patties on a non-stick baking sheet and bake for 15 to 20 minutes or until a meat thermometer inserted into the center of a patty registers 165 degrees F, and the meat is no longer pink.
extras:
5 slices Ezekiel bread (original or sesame)
mayonnaise or hummus
fresh baby spinach
shredded cheddar cheese or crumbled chevre
sliced tomatoes
sliced onions
organic ketchup
yellow mustard
Salt, Mrs. Dash, or Trader Joe's 21 Seasoning Salute
freshly ground black pepper
Toast bread slices and place them on 5 plates. Top with a little mayo or hummus, a burger, some cheese, ketchup, mustard, tomato and onion. Season to taste. Serve.
Enjoy!
~Melissa
You may enjoy these related posts: