Print Friendly Version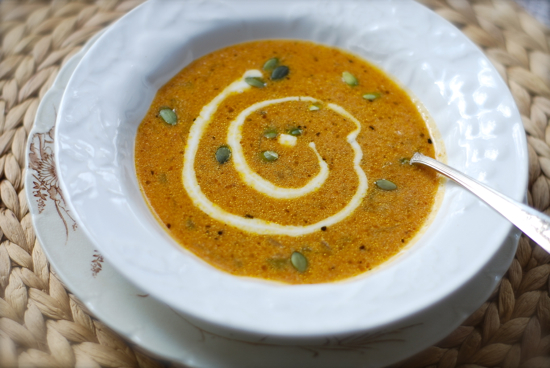 Another soup recipe? Yeah, I'm on a roll now. Love this "settling in" feeling that Fall gives me. I'm gathering yarn, and quilt squares, and thick novels so I have plenty to keep me busy in front of the fireplace when I'm not writing, painting or photographing. Ahhh, this is definitely the best time of year!
This pumpkin soup is easy and actually really healthy. Most pumpkin soup recipes I've come across call for a lot of cream, which adds to the creaminess and richness, no question, but definitely takes away from the otherwise healthy soup ingredients. I decided to create a soup that is more nutritious by adding greek yogurt instead and including a maple cream garnish. If you don't like the idea of adding greek yogurt, then by all means, use cream instead. The same one cup measurement, whatever you decide.
1 large onion,  finely chopped
1/2 cup celery, finely chopped
3 Tablespoons butter
32 oz. homemade chicken or vegetable stock (or the canned/boxed stuff)
15 oz. pure canned pumpkin puree (or fresh, if you have it)
1 cup greek yogurt, half & half, or heavy whipping cream (whatever you prefer)
3 Tablespoons honey
2 teaspoons garlic powder
1 teaspoon smoked paprika
1 Tablespoon Sriracha hot sauce (or your favorite hot sauce)
1 Tablespoon Worcestershire sauce
1/2 cup heavy whipping cream mixed with 2 Tablespoon pure maple syrup
pumpkin seeds or pepitas for garnish
salt and pepper to taste
In a large, heavy stock pot or Dutch oven, saute the chopped onion and celery in butter until tender. Add the stock and bring to a boil. Lower heat and add the pumpkin yogurt (or cream), honey, garlic powder, smoked paprika, Sriracha and Worcestershire sauce. Stir everything well with a wire whisk until heated through, but not boiling. Salt and pepper to taste.
In a small bowl, combine the cream and maple syrup. Ladle soup into bowls. Drizzle a little of the maple cream over each serving. Add a few toasted pumpkin seeds for garnish.
Enjoy!
~Melissa
You may enjoy these related posts: