Print Friendly Version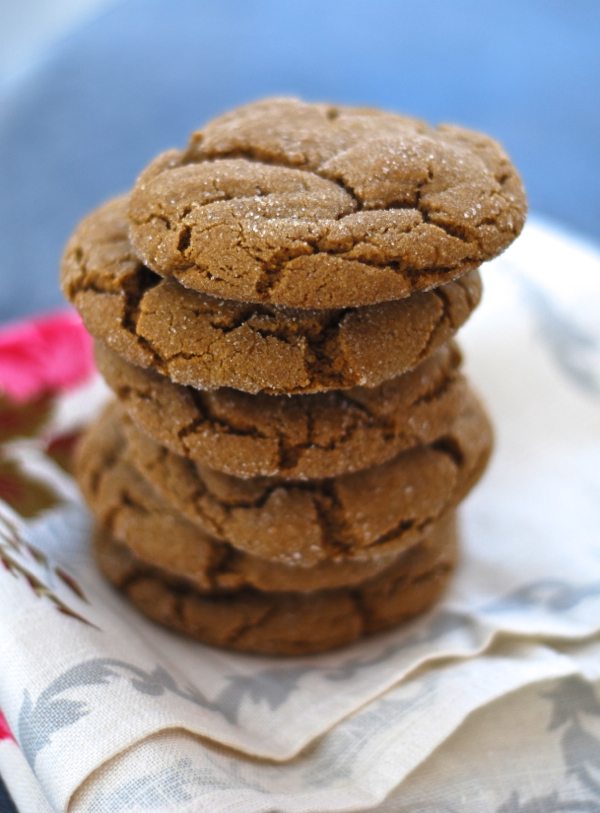 If you like big, spicy, chewy, ginger cookies this is the recipe for you. They're perfect! The cayenne can be reduced or eliminated all together if you don't like the heat…but I think it's what makes these cookies so awesome.
2 ¼ cups unbleached all purpose flour
2 tsp baking soda
¼ tsp salt
1 tsp ground cinnamon
1 tsp ground ginger
½ tsp cloves
1 tsp ground cayenne pepper
¾ cup (1 ½ sticks) unsalted butter at room temp.
1 cup packed light brown sugar
1 large egg
¼ cup molasses
about ¼ cup turbinado sugar
Position a rack in the middle of the oven. Preheat the oven to 350°. Rub 2 baking sheets liberally with olive oil.
Sift the flour, baking soda, salt, cinnamon, ginger, cloves and cayenne into a medium bowl and set aside. In a large bowl, using an electric mixer on medium speed, beat the butter and brown sugar until smooth, about 1 minute. Stop the mixer and scrape the sides of the bowl as needed during mixing. Add the egg and molasses and mix until blended and an even light brown color, about 1 minute. On low speed, add the flour mixture, mixing just to incorporate.
Spread the turbinado sugar on a large piece of wax or parchment paper. Roll ¼ cup of dough between the palms of your hands into a 2 inch ball, roll the ball in the sugar and place on one of the prepared baking sheets. Continue making cookies, spacing them 2 inches apart.
Bake the cookies one sheet at a time until the tops feel firm, but they are still soft in the center and there are several large cracks on top, about 14 minutes. Cool the cookies on the baking sheets for 5 minutes, then use a wide metal spatula to transfer the cookies to a wire rack to cool completely.
Makes 9-12 cookies
Enjoy!
~Melissa
You may enjoy these related posts: