Print Friendly Version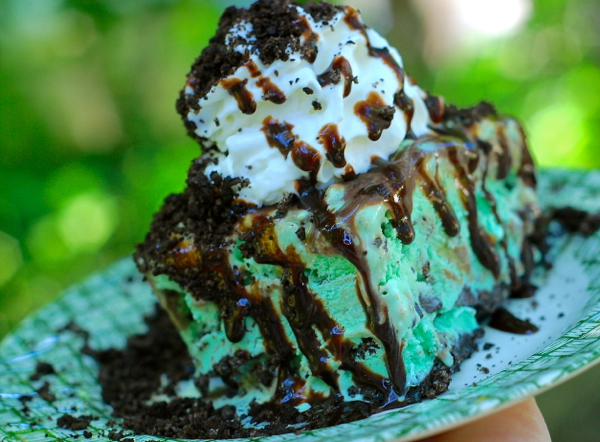 Our summer is off to an awesome start. My birthday week always marks the beginning of summer for me. The kiddos are out of school, the days are long and hot, and we eagerly anticipate the weekends that quickly fill up with all of the things we want to enjoy and accomplish during the warmest months of the year here in Minnesota. This weekend I'm thinking a visit to the swimming hole might be just the thing since it's supposed to be in the 90s. Maybe we'll pack a picnic too. What are you up to?
Ice cream just screams summer, doesn't it? Ice cream pies are so easy to make and such a versatile dessert. Just whip one up, stick it in the freezer and you have a delicious, refreshing ice cream treat that will serve approximately 12 people (or 3 people 4 times … 😉 )
And, did I mention this is a no-bake dessert? Well it is!
1 package original Oreo cookies, crumbled
1 stick (1/2 lb.) unsalted butter, melted
3 quarts of peppermint bon bon ice cream (mint chocolate)
2 cups fudge sauce (jarred or homemade, recipe below)
real whipped cream
chocolate syrup (such as Hershey's) for drizzling over top
Place Oreos, one row at a time, in the bowl of a food processor. Pulse until uniform crumbs form. Place Oreo crumbs in a large mixing bowl. Set aside approximately one cup for garnishing the dessert when you serve it. Melt the butter and add it to the Oreo crumbs in the big bowl. Mix well and press evenly into the bottom of a 9×13, glass baking dish.
Allow the ice cream to soften slightly and carefully spread it in an even layer over the cookie crust. Top the ice cream layer with the fudge sauce. If you make the fudge sauce from scratch, make sure you allow it to completely cool before topping the ice cream with it or it will melt your ice cream.
Place ice cream pie in freezer and allow it to chill/freeze for 8 hours before slicing. When it's ready, slice into pieces, plate and top with a dollop of whipped cream, a sprinkle of the reserved Oreo crumbs and a drizzle of chocolate sauce.
for the homemade fudge sauce:
1 heaping cup semi-sweet chocolate chips
1/2 cup butter, melted
1 (12 oz.) can sweetened condensed milk
1 teaspoon pure vanilla extract
Place all sauce ingredients in a medium saucepan. Heat over a low flame, stirring constantly, just until the chocolate is melted and all of the ingredients are combined and smooth. Remove from heat and set aside to cool completely before topping ice cream pie.
Enjoy!
~Melissa
You may enjoy these related posts: