Print Friendly Version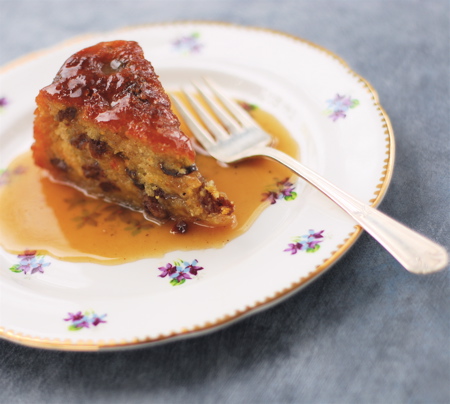 ~ sticky raisin tea cake ~
There was a pile of bananas on the counter that needed to be used, so I decided to make up a cake recipe instead of making banana bread …again 🙂 I love banana bread, but sometimes ya just have to try something new. The result is this dense, moist, raisin-studded cake. It's wonderful with a cup of Earl Grey, spicy apple or orange tea. The sauce (see recipe below) is to die for. I love any reason to pour salted caramel on things, and this cake is the perfect vehicle.
preheat oven to 350 degrees F.
1/3 cup butter, softened
3/4 cup sugar
2 ripe bananas
1 egg
1/2 cup Greek yogurt
1/3 cup freshly squeezed orange juice
zest of one orange
2 cups all-purpose flour
1 teaspoon baking soda
2 teaspoons baking powder
1 teaspoon salt
1 teaspoon nutmeg
1 heaping cup raisins
Generously butter a bundt pan. Mix: butter, sugar, bananas, egg, yogurt, orange juice and orange zest until mixed well and smooth. Combine the dry ingredients until evenly distributed and add them to the wet ingredients until combined and just moist. Gently fold in the raisins. Spread into bundt pan and bake for 40 minutes or until golden and a wooden skewer comes clean when inserted into the center of the cake. Cool for 10 minutes in the pan. Turn out onto a cake plate.
~ salted caramel whiskey sauce ~
While the cake is cooling in the pan you can make this decadent, buttery caramel sauce…
1 stick butter
1 cup powdered sugar
1/2 cup brown sugar
1/4 cup cream
1/4 cup whole milk
1/2 teaspoon nutmeg
1/4 cup whiskey
coarse sea salt
Melt butter slowly in a small saucepan. Add powdered sugar and brown sugar, and stir with a wire whisk until well combined. Add cream, milk, nutmeg and whiskey. Cook on low, stirring occasionally, for 15 minutes. Remove from heat and allow to cool a bit before pouring on cake slices. Sprinkle a little coarse sea salt over each serving.
I like to pour some of the sauce on the cake just prior to serving it instead of pouring the sauce on the whole cake at once. This cake and sauce are wonderful reheated.
Enjoy!
~Melissa
You may enjoy these related posts: