Print Friendly Version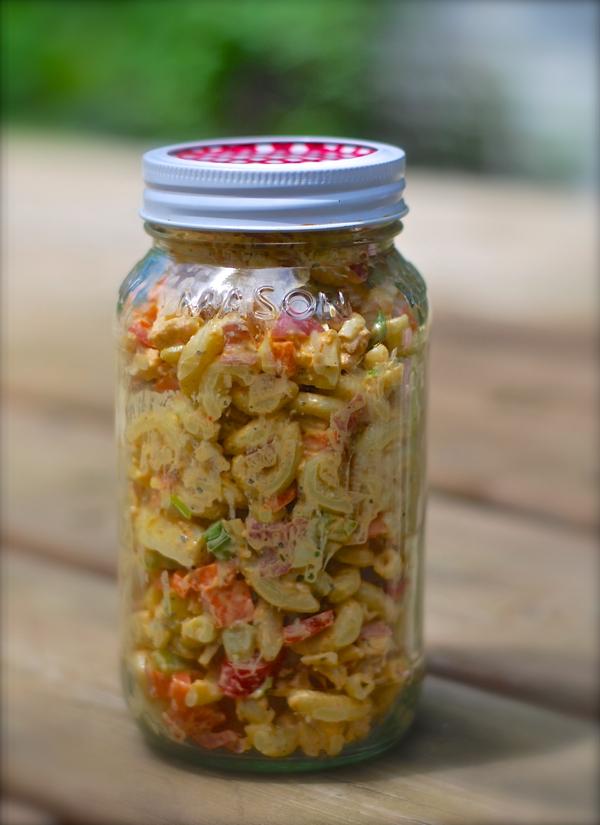 My other macaroni picnic salad has been such a hit, I decided to share this old, family favorite with all of you. This is another yummy dish to bring along on a "Mason Jar Picnic." With the all-American flavors of chicken, bacon and ranch, this little salad is sure to be a hit at your next pot luck or outdoor gathering. I just buy a rotisserie chicken and tear 2 cups of the meat off the bones. It makes this recipe so simple! It pays to inquire at your local supermarket deli if they have rotisserie chickens from the day before. Often they will, and they'll have them refrigerated in the back. I've gotten an extra large "family size" bird for as little as $3! And, this way, you won't have to cool it down before you add it to your mac salad. Win, win 🙂 Don't forget to save the skin and bones from your chickens for soup!
1 lb. elbow macaroni cooked according to package directions
1 cup peppercorn ranch dressing
1 and 1/4 cup real mayonnaise
1/4 cup sugar
3 Tablespoons apple cider vinegar
1 teaspoon Dijon mustard
8 oz. pepper jack cheese, cubed
2 cups (or more) cooked, cooled, shredded or cubed chicken
10 slices of bacon, fried, cooled and crumbled
4 slices salami, chopped
1/3 cup red onion, finely chopped
1 cup canned corn, well drained (or 1 cup fresh)
1/2 cup sweet bell pepper (any color) chopped
3 large carrots, finely chopped
2 sticks of celery, chopped
1 Tablespoon dry Italian seasoning
1 Tablespoon smoked paprika
salt and pepper to taste
Cool the cooked macaroni by running it under cold water. Drain very well and transfer to a large mixing bowl along with all of the other ingredients. Mix very well and chill for at least 4 hours before serving. The macaroni may absorb some of the dressing and mayo during the chilling process. If it seems a bit too dry, just stir in a little more mayonnaise before transferring to Mason jars and packing in your cooler.
Enjoy!
~Melissa
You may enjoy these related posts: