Print Friendly Version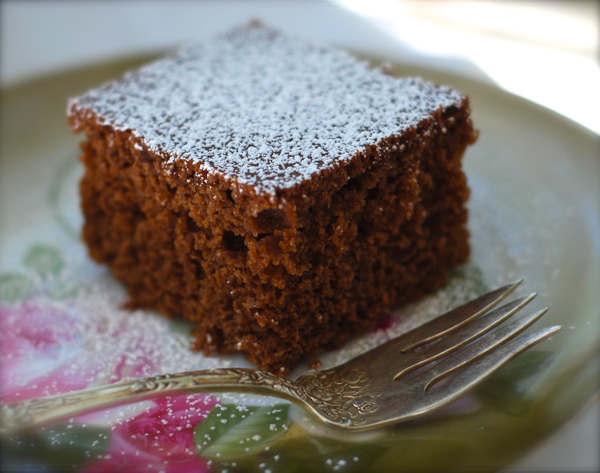 Last week I got together with my friend Nancy and we had a yummy lunch "al fresco" on her screened in gazebo-porch. It was so relaxing to sit in the fresh air, talk, listen to the sounds of birds singing, the wind blowing gently through the trees and squirrels happily chattering. The breezes brought with them the smell all sorts of lovely things blooming from her big, beautiful garden. For dessert she made these delicious cake brownies and they were unlike any I had ever tasted before. I knew I had to have the recipe so I could make them for my family. The recipe is so simple, and you may be as surprised as I was to discover it doesn't call for eggs.
Gracie has been happily eating them for her after school snack every day. They would make a nice offering for a pot luck or family picnic. Enjoy!
3 cups all purpose flour
1/2 cup unsweetened cocoa powder
2 Tablespoons baking powder
1 cup butter, melted
2 Tablespoons apple cider vinegar
2 cups sugar
1/4 teaspoon salt
2 Tablespoons pure vanilla extract
2 cups cold water
powdered sugar for sprinkling
Preheat oven to 350 degrees F. Generously butter a 9 x 13 glass cake pan. Stir the dry ingredients together in a large mixing bowl. Add remainder of ingredients to the dry ingredients and stir until well blended. Pour into prepared baking dish. Bake for 30-35 minutes or just until a wooden skewer inserted into the center of the brownies comes out with a couple of crumbs stuck to it. Cool completely. Cut into squares. Plate and sprinkle with a little powdered sugar.
XO,
~Melissa
You may enjoy these related posts: