Print Friendly Version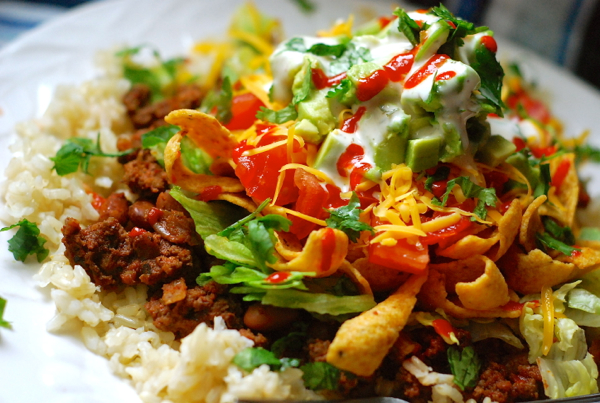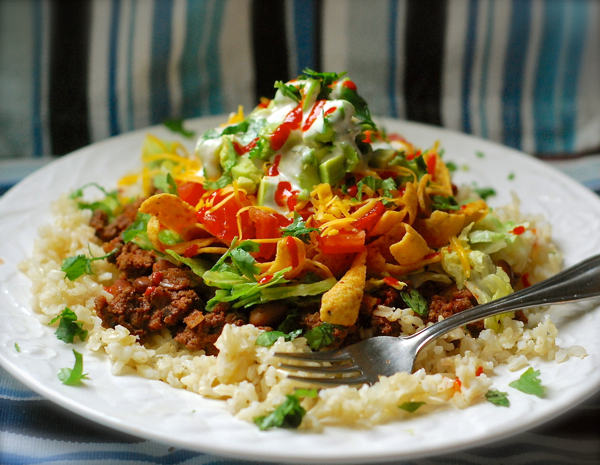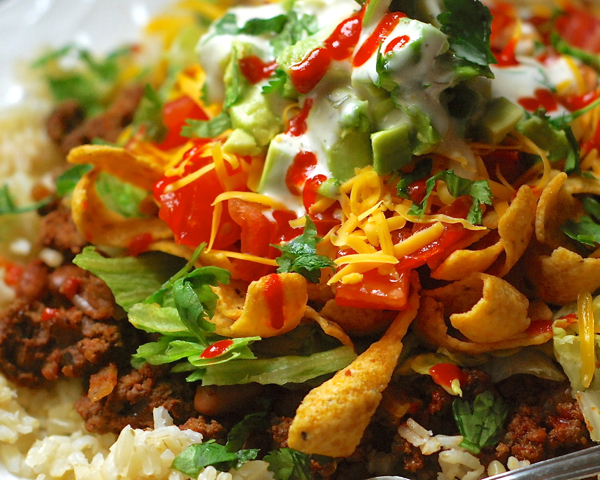 This is one of those fun dinners to make for company. Everyone sits around the table and passes the different toppings! It's delicious, and easy to prepare, everyone can make their "straw hat" exactly the way they want, and you get to enjoy your guests.
To make this even easier I adapted my original recipe for the slow cooker!
for 6 people, you'll need:
3 cups hot, cooked rice, buttered (white or brown)
2 lb. lean ground beef
1 large onion, chopped
1 packet taco seasoning (or homemade taco seasoning)
1 can pinto beans, rinsed and drained well
1/4 cup water or stock
1/4 cup tomato paste
1/4 cup salsa
1 Tablespoon sriracha (or other favorite hot sauce)
3 cups shredded lettuce
1 (family size) bag of plain Frito's corn chips
6 Roma tomatoes, chopped OR a jar of salsa
16 oz. shredded cheddar cheese
your favorite homemade or bottled Ranch salad dressing
3 perfectly ripe avocados, chopped
chopped black olives (optional)
mexi-corn (optional)
fresh cilantro, chopped
your favorite hot sauce
Place ground beef and onion in a large, heavy skillet. Cook until meat is browned half way (so there is still about half pink meat in the pan.) Place meat and onions in a 4 quart slow cooker. Add:  taco seasoning, drained/rinsed beans, water/stock, tomato paste, salsa, and sriracha. Stir well. Cover and cook on the HIGH setting for 3 hours, or the LOW setting for 5 to 6 hours. When done, remove crock from cooking element and set it on a trivet on your table for easy serving.
During the last 40 minutes that the meat is cooking, make your rice according to the directions on the package for a yield of 3 cups of cooked rice.
Once rice is done, transfer it to a pretty casserole with a lid, and place it on the table along with all of the other toppings in their own bowls… lettuce, corn chips, tomatoes, cheese, ranch dressing, avocados, olives, corn, cilantro, and hot sauce.
Stack the "straw hats in this order: rice, meat & beans, lettuce, corn chips, tomatoes, cheese, ranch dressing, avocados, olives, corn, cilantro, hot sauce… and more ranch dressing, if you wish.
Enjoy!
~Melissa
You may enjoy these related posts: