Print Friendly Version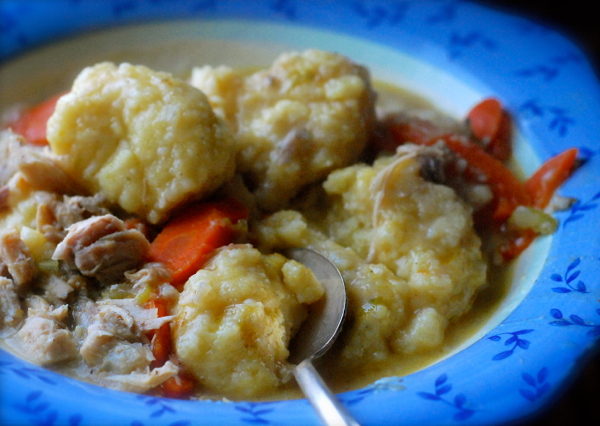 I have a few "go to" comfort food meals up my sleeve, but I have to say soups and stews that include big dumplings are at the top of my list. I always make up a big pot of turkey veggie soup using the leftover turkey bones/carcass from our Thanksgiving bird. It makes the BEST soup!
Once in awhile I make it like I make my yummy Tortilla Soup, and once in awhile I add egg noodles for a hearty Turkey Noodle Soup. This year I opted for the dumplings. Oh. My. YUM! Seriously awesome!
This recipe might look complicated, but it's really not. You will need to prepare the stock one day, chill it, skim it and then make your soup. So plan accordingly.
for a big pot of soup:
1 meaty turkey carcass (including bones and skin)
water to cover
1 Tablespoon onion powder
1 teaspoon garlic powder
a handful of fresh parsley, chopped
Place in a 7 to 8 quart slow cooker. Cover with water. Add onion powder, garlic powder, and parsley. Cover and cook on the LOW setting for 8 to 10 hours. Once done, strain. Reserve stock. Cool and remove all edible meat from bones. Discard all skin, bones, and inedible stuff. Set meat aside.
Place stock in a large stock pot and add more homemade or boxed turkey/chicken stock to equal approximately 4 quarts. Chill. Skim most of the fat from top of stock and discard fat. Place stock on stove top and heat over medium flame.
Heat 2 to 3 Tablespoons butter or olive oil in a large, heavy skillet. Once hot, add:
1 large onion, chopped
6 to 8 large carrots, peeled and sliced thin
2 sticks celery, chopped
1 large clove garlic, minced
Cook until tender and translucent. Add to turkey stock along with 1/3 cup turkey gravy (if you happen to have some on hand.) Add turkey meat along with more cooked chicken (you'll want approximately 4 to 5 cups cooked meat…I usually buy a deli rotisserie chicken for this purpose.) to the stock. Heat through until boiling. Salt and pepper, to taste. Reduce to simmer and cover with lid slightly askew while you make your dumplings.
for the dumplings:
1 and 1/2 cups all purpose flour
1/2 cup cornmeal
2 teaspoons baking powder
1 Tablespoon sugar
1 cup buttermilk OR 3/4 cup plain yogurt + 1/4 cup water
3/4 cup heavy cream
Mix all in a bowl until smooth. Dough should be pretty thick (like biscuit dough.) If it seems too thin, add a little more flour. If it seems too thick, add a little more cream.
Bring soup to boil. Stir well. Drop dumplings, by large spoonfuls, into boiling liquid. Reduce heat so the liquid is gently boiling. Cover and cook for 6 minutes. Uncover. Gently stir soup being careful not to break up the dumplings. You want to make sure you stir all the way to the bottom of the pot. Flip dumplings. Cover and cook an additional 6 minutes, or until dumplings are completely set.
Ladle soup into bowls. Top each bowl with some of the dumplings.
Enjoy!
~Melissa
You may enjoy these related posts: