Print Friendly Version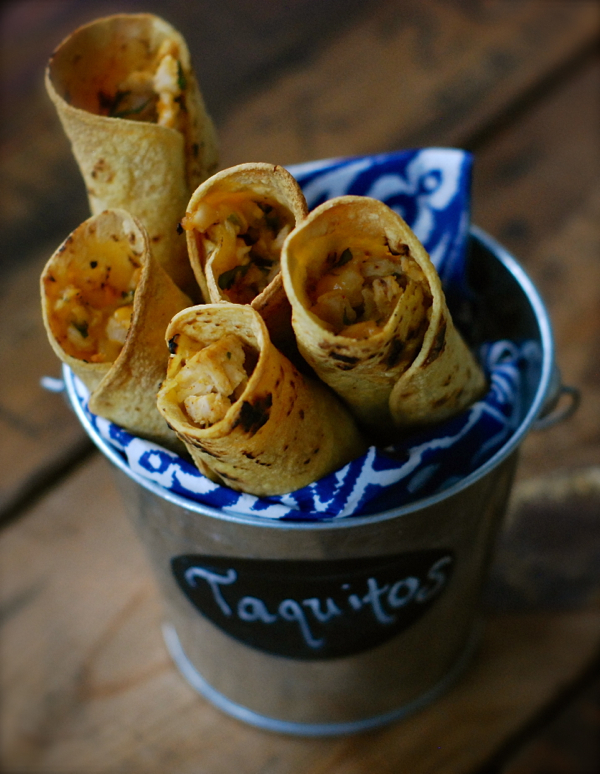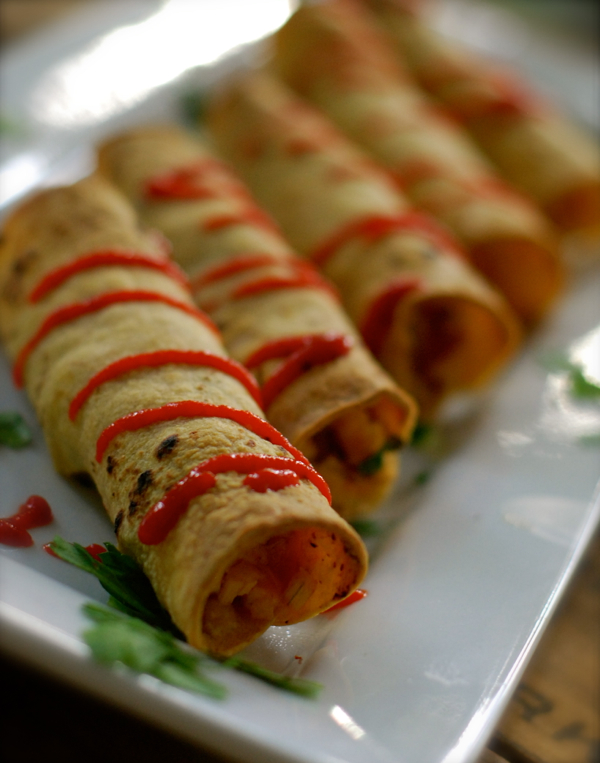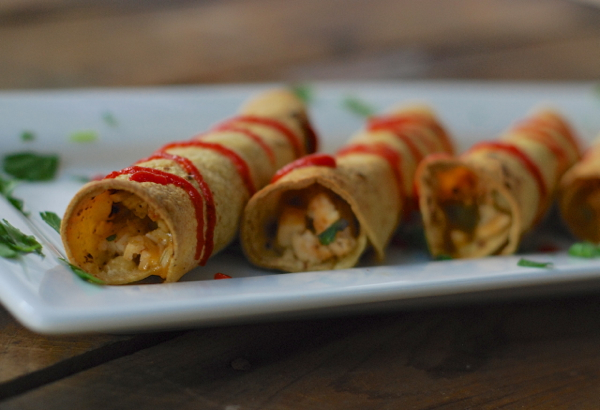 So, as you already know from my 9 kazillion taco recipe posts, I am a taco fanatic. I am always looking for new, interesting fillings and new ways to prepare them.
Taquitos are my new obsession. They're tacos, but they're also crunchy finger food. It's fun to make up a bunch of different salsas and a batch of guacamole and offer them as dips for the taquitos. Don't forget the sriracha, salsa verde, and sour cream!
This makes enough taquitos for 4 hungry people. Approximately 4 or 5 per person if you're serving them as a main course. That may sound like a lot, but there's not really much to a taquito. You have to leave ample tortilla so you can wrap it up and so it doesn't don't pop open while baking. That means approximately 3 Tablespoons of meaty, cheesy filling per taquito. If you're serving them as an appetizer this recipe will serve 8.
Tip: As a shortcut you could use an already made, deli rotisserie chicken instead of cooking the chicken yourself. Just remove the skin and bones and shred or chop the chicken.
~ preheat oven to 400 degrees F. ~
3 cups finely chopped, cooked chicken, beef, black beans, or pork
1 teaspoon cumin
1 teaspoon chili powder
1 teaspoon paprika
6 Tablespoons finely chopped yellow onion
1/4 cup finely chopped, fresh cilantro
1 clove fresh garlic, minced
2 cups shredded cheddar cheese OR pepper jack cheese
sea salt and freshly ground black pepper, to taste
16 to 20 taco-size, soft corn tortillas
olive oil cooking spray
salsa
guacamole
hot sauce
sour cream
fresh cilantro
Line a large baking sheet with cooking parchment.
In a large bowl, combine: meat or beans of choice, seasonings, onion, cilantro, garlic, and cheese. Mix well. Salt and pepper, to taste. Set aside.
Over a gas or electric burner, toast the corn tortillas, one at a time, over medium heat. Turn frequently until each tortilla is lightly toasted and soft on each side. Transfer to a plate as you cook.
Fill each tortilla with approximately 3 Tablespoons of the meat/cheese mixture. Carefully roll them up into tight tubes, and place them seam side down on the prepared baking sheet. Spray them lightly with the olive oil cooking spray. Place in preheated oven and bake for 18 to 20 minutes. Serve with desired toppings.
Enjoy!
~Melissa
You may enjoy these related posts: