Print Friendly Version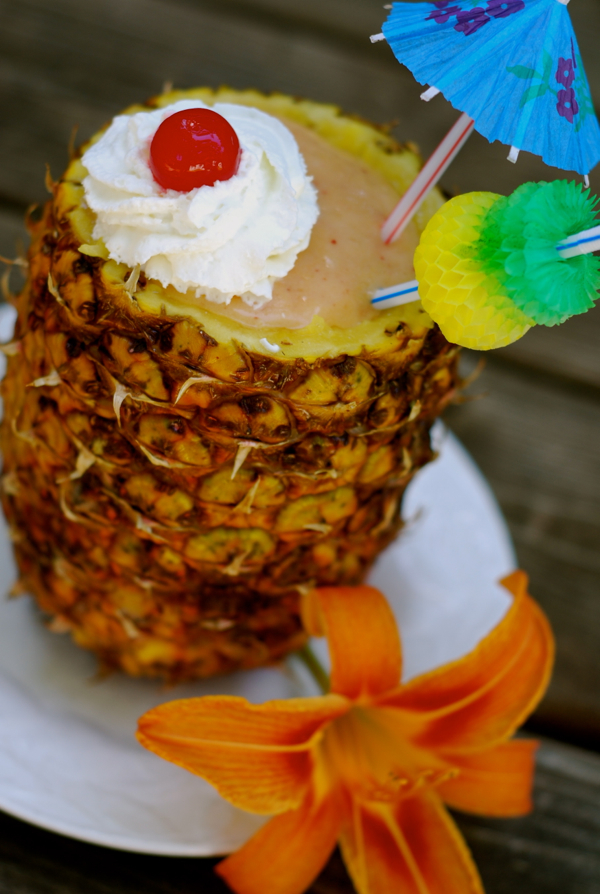 My hubby woke up to one of these beautiful smoothies for his healthy Father's Day breakfast yesterday. I had one too, and let me tell ya, it was awesome! Pretty too, huh?
Feel free to add a dollop of greek yogurt and/or a scoop of your favorite protein powder to this if you need the extra protein boost. This time I made the smoothies without yogurt or protein powder because I was looking for something a bit more light, refreshing and frosty. Protein powder can sometimes mask the flavor of fresh fruit.
for 2 big smoothies:
2 pineapples, tops removed and flesh scooped out to create "cups"
1 large, ripe banana (peeled)
1 ripe mango, peeled, pitted and cut into chunks
8 large, fresh strawberries, tops removed
7 oz. canned coconut milk (not to be confused with creme de coconut)
1 heaping cup fresh pineapple + juice
large handful of ice
1 teaspoon rum or vanilla extract (optional)
whipped cream + maraschino cherries (or fresh cherries) for garnish
Remove tops from pineapples. Using a sharp knife, carefully cut along the perimeter of the top of the pineapples, leaving a 1/2 inch "wall." Cut and scoop as needed to remove the pineapple fruit and core from the center of the pineapples. It takes a bit of work, but the end result is so stunning! You'll end up with more pineapple than you need to make two smoothies. Freeze extra in a ziploc for future smoothies or desserts.
Place banana, mango, strawberries, coconut milk, pineapple, ice, and flavor extract in the bowl of a blender. Blend until smooth. Pour into the pineapple cups. Garnish with whipped cream, cherries, cocktail umbrellas, and cute straws. Serve immediately.
Enjoy!
~Melissa
You may enjoy these related posts: