Print Friendly Version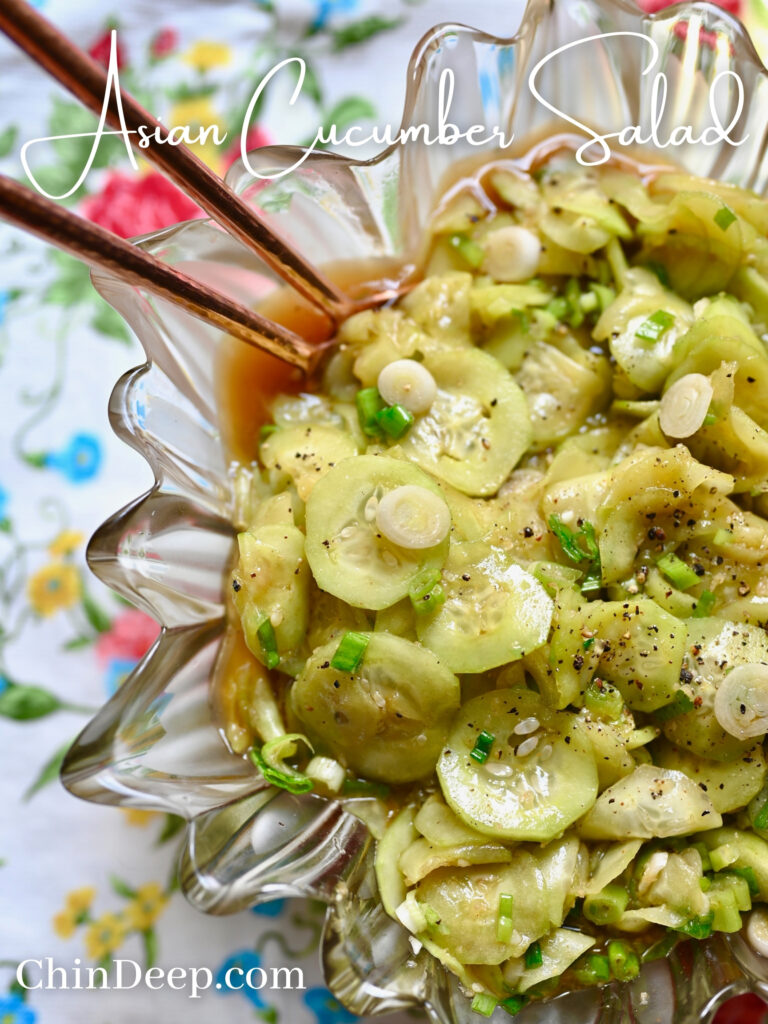 Cucumber salad is so light and refreshing! We love to eat it all summer long. I've created lots of different variations of this salad so it never gets boring. This Asian version is wonderful with everything, but especially as a side dish to sushi, chow mein, and egg rolls. I like to add it to bento box lunches and grain bowls too.
If you're going on a picnic, this is the salad for you. It travels well, and is the perfect addition to a potluck. Make sure you let it chill for at least two hours prior to serving. It's best ice cold.
If you want to try some of my other cucumber salads, just follow these links for Classic Creamy Cucumber Salad, Creamy Italian Cucumber Salad, Grandma's Creamy Cucumber Macaroni Salad, Cucumber Salad Boats, and Tzatziki.
for a big bowl of Asian Cucumber Salad:
7 medium size cucumbers
1/2 cup rice vinegar + more as needed
1/4 cup soy sauce or coconut aminos
3 Tablespoons brown sugar
3 cloves fresh garlic, minced
1/4 cup fresh ginger, grated fine
1/8 teaspoon cayenne pepper
freshly ground black pepper, to taste
1/4 cup dark sesame oil
1/4 cup extra virgin olive oil
1 bunch scallions + some of the green tops, sliced thin
fresh cilantro, optional
Peel the cucumbers and slice them very fine, using a sharp knife or mandolin. Place cucumber slices in a colander in the sink and sprinkle them with some sea salt. Allow them to sit for 30 minutes and then gently blot them with paper towels to remove excess moisture.
While the cucumbers are resting and draining, make the dressing.
In a medium mixing bowl, combine the rice vinegar, soy sauce, sugar, garlic, ginger, cayenne, black pepper, sesame oil, and olive oil. Whisk. Adjust seasonings and other ingredients to your liking. I always end up adding a little more vinegar and soy sauce.
Transfer cucumbers to large mixing bowl. Add the sliced scallions. Pour dressing over the cucumber/onion mixture and toss to evenly coat. Cover and refrigerate for at least two hours prior to serving. Garnish with some fresh cilantro if you wish.
Enjoy!
~Melissa
You may enjoy these related posts: