Print Friendly Version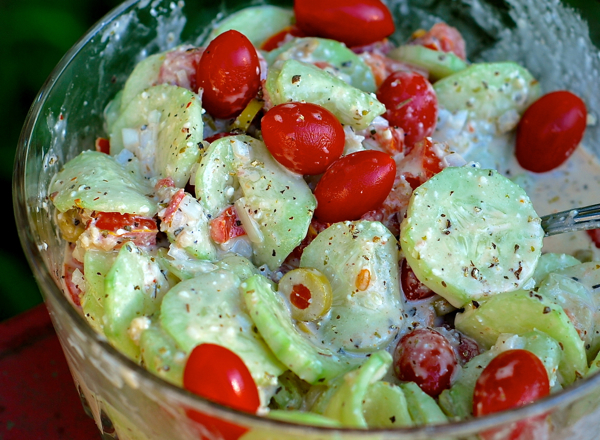 I made a bunch of fresh salads for our 4th of July celebration this year and decided to include this yummy favorite. It's seriously amazing! Grandma's Creamy Italian Cucumber Salad is just as easy to make as her traditional, classic cucumber salad, but with an Italian twist. We love the addition of two kinds of  fresh tomatoes, zesty seasonings, and creamy Italian dressing in this delicious salad. Keep it in mind for your next picnic or potluck. This makes a BIG bowl, but the recipe can easily be cut in half for a smaller crowd.
for the salad:
4 large cucumbers, peeled and sliced thin
2 cups big garden tomatoes, seeds removed, chopped
3 large cloves garlic, minced
1/2 cup onion (any type) chopped fine
1/2 cup sliced green olives
1 cup cherry tomatoes OR grape tomatoes
Place all salad ingredients, except for the cherry tomatoes, in a big mixing bowl and toss to combine so everything is evenly incorporated.
for the dressing:
1 heaping cup mayonnaise
1/2 cup grated or powdered Parmesan cheese
1/2 cup balsamic vinaigrette (We use Newman's Own or homemade)
2 teaspoons onion powder
1 teaspoon garlic powder
2 Tablespoons dry Italian seasoning OR dry oregano
1/2 teaspoon crushed red pepper flakes
Place all dressing ingredients in a medium mixing bowl and whisk until smooth. Pour over salad ingredients and gently toss to combine. Transfer salad to a pretty salad bowl and top with the cherry tomatoes and a fresh sprig of basil for a garnish, if you wish. Chill until ready to serve.
Enjoy!
~Melissa
You may enjoy these related posts: