Print Friendly Version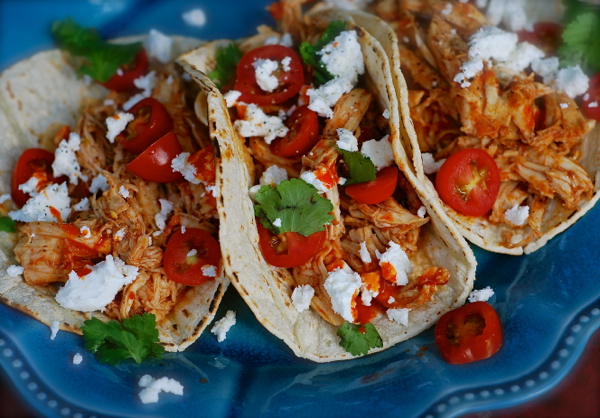 So, most of you already know that I make tacos several times a week. I often use leftover grilled steak, chicken, and even pork chops to create tacos for breakfast the next day. That happens a LOT. But, every once in awhile I decide to create an all new taco filling. When it turns out stellar, I share it here with you. Aren't you lucky to have the best of the best taco recipes? Hee hee.
Seriously though. Try these. You won't believe how easy they are to prepare. 3 ingredients plus toppings, and of course, taco shells.
You literally dump the chicken in the crock pot, top it with seasonings and salsa, cover the crock pot and walk away for three hours. Dinner is done!
3 lb. boneless skinless chicken breasts
3 Tablespoons to 1/4 cup taco seasoning (I use homemade with less salt)
16 oz. salsa (homemade or your favorite store bought stuff)
Place chicken in the bottom of a 6 to 8 quart slow cooker/Crock Pot. Sprinkle taco seasoning over the chicken. Spread salsa in an even layer over the seasoning. Cover Crock Pot. Place on HIGH setting and cook for 3 to 4 hours. Check the meat at 3 hours so it doesn't get over cooked. If it's cooked through and shreds easily, it's done.
Using two forks, shred meat and mix it into the salsa and juices in the slow cooker. Use as a taco filling, enchilada filling, or topping for taco salads!!!
Enjoy!
~Melissa
You may enjoy these related posts: