Print Friendly Version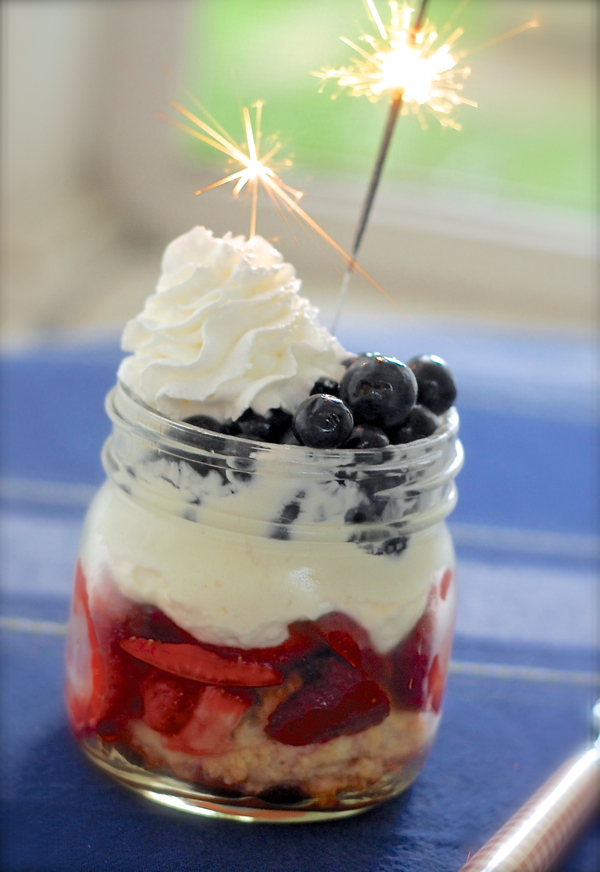 Here's a pretty, delicious and easy dessert to serve on the 4th of July, or for any summer gathering. I used my mock devonshire cream for one of the cream layers because it's holds up better than plain, sweetened whipped cream, and because it's not quite as sweet. I don't like an overly sweet shortcake dessert. Instead I try to balance the sweetness of the fruit, cream and berries so you get a little tartness in each bite too. That's the beauty of berry shortcake, in my opinion. Lots of fresh berries, a simple shortcake that is just a bit sweeter than a baking powder biscuit, and a creamy layer that doesn't overpower the dessert with too much sugar. However, if you're in a hurry, feel free to just use whipped cream. Add a scoop of ice cream just before serving if you wish. The possibilities are endless, and it's all really up to you and your personal preference.
If you're making them exactly according to the directions listed below, your shortcake jars can be covered tightly and packed into ice for a picnic and will hold up in the refrigerator for 4 hours prior to serving. Just bring a can of real, sweetened whipped cream and add a dollop to each jar before enjoying.
for the shortcakes: (makes approximately 12)
2 cups all purpose flour or biscuit flour
1 Tablespoon baking powder
3/4 teaspoon salt
1/4 cups sugar + more for sprinkling the tops
1/4 cup unsalted butter
3/4 cup half & half OR buttermilk
2 teaspoons pure vanilla extract
melted butter to brush over tops
Preheat oven to 400 degrees F. In a large bowl, mix flour, baking powder, salt and sugar. Cut in butter, using a fork, until coarse, uniform crumbs form. Mix in half & half and vanilla. Drop by large spoonfuls onto a large baking sheet, about 2 inches apart. Brush each biscuit with a little melted butter and sprinkle tops with a light dusting of sugar. Bake for 15 to 20 minutes, or just until tops are golden brown. Cool completely before assembling your desserts.
for the berries:
3 to 4 cups fresh, ripe strawberry slices
3 to 4 cups fresh, ripe blueberries
1/2 cup sugar, divided
1/2 cup fresh lemon juice, divided (orange or grapefruit will work too)
In one bowl, combine the strawberry slices, 1/4 cup of sugar and 1/4 cup of lemon juice. Repeat with the blueberries, using a separate bowl. Cover and refrigerate until you're ready to assemble your shortcake jars.
for the berry shortcakes in a jar: (makes approximately 12 desserts)
Place the equivalent of one biscuit in the bottom of each of 12 wide mouth canning jars (you may have to break them up into big chunks to make them fit.) I used pint sized jars, but you can use whatever you have. Top the biscuit layer with 1/2 cup of the macerated strawberries, followed by a generous dollop of mock Devonshire cream and 1/2 cup of the macerated blueberries. Cover tightly and keep cold until ready to serve.
To serve: Remove lids, add a dollop of real, lightly sweetened whipped cream or vanilla ice cream, and a sparkler (if you wish.)
Enjoy!
~Melissa
You may enjoy these related posts: