Print Friendly Version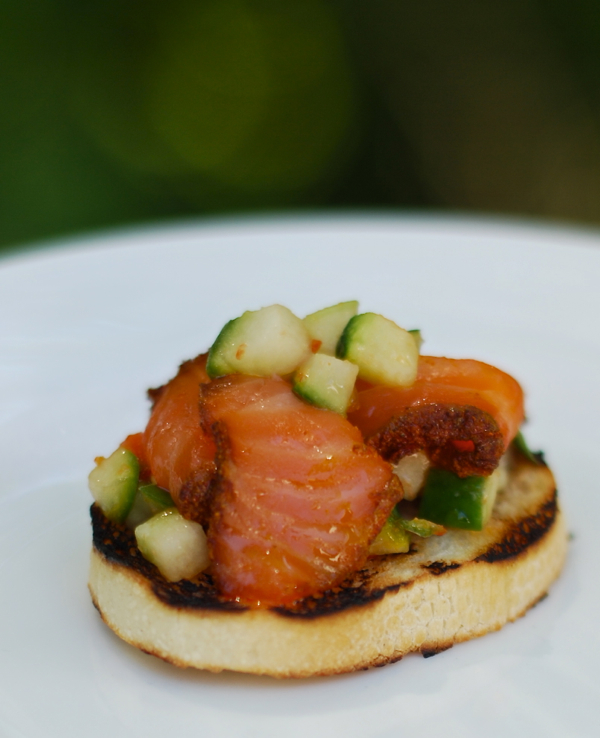 I'm still compiling recipes and photos for the tea book. Slow and steady… 😉 I adore little tea sandwiches topped with smoked salmon and cucumber salsa for summer tea gatherings. So fresh and delicious with a tall glass of iced tea!
makes about 30 to 40 open faced tea sandwiches
1 long baguette, cut into 1/4 inch slices
1 stick butter, melted
3 large cloves garlic, minced
1/2 to 3/4 lb. smoked salmon, cut into strips
1 long, organic, English cucumber, unpeeled
2 Tablespoons onion, finely chopped
3 Tablespoons extra virgin olive oil
1 Tablespoon champagne vinegar
fresh dill sprigs (optional)
creme fraiche (optional)
lemon wedges
Using a serrated knife, slice baguette into 1/4 inch slices. Place slices on a large baking sheet in one layer (you may have to use two baking sheets.) Combine the melted butter and minced garlic cloves in a small bowl. Using a pastry brush, brush the garlic butter on the tops of all the baguette slices. Bake in a 400 degree F. oven for 15 minutes, or just until crispy and golden brown. Set aside to cool completely.
While the baguette slices are baking and cooling, make the cucumber salsa. Cut the cucumber into quarters lengthwise. Using a spoon, remove the cucumber seeds and discard. Cut the cucumber into 1/4 inch cubes. Toss with the finely chopped onion, olive oil and vinegar.
When the baguette slices are completely cool, top each with some of the smoked salmon, a little spoonful of cucumber salsa, a drizzle of creme fraiche (optional) and a dill sprig (optional.) Serve with little lemon wedges for squeezing over the crostinis just prior to eating.
Enjoy!
~Melissa
You may enjoy these related posts: