Print Friendly Version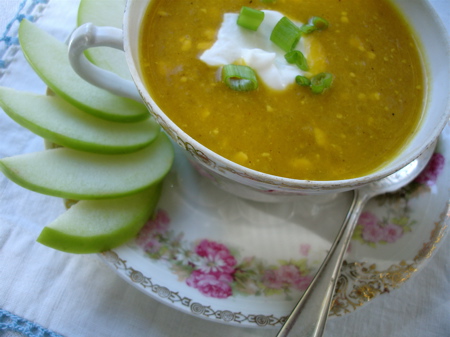 ~ butternut squash & apple bisque ~
I've gotten quite a few emails asking me to please post the recipe for the butternut squash & apple bisque that was pictured in my "teacup lunch" blog post on Tuesday, October 4th. Soooo…..without further adieu, I give you one of my favorite autumn soup recipes. I hope you love it as much as I do.
1 large butternut squash
2 large sweet apples
2 large onions
3 Tablespoons unsalted butter
1/2 cup dark brown sugar, packed
2 Tablespoons sweet curry powder
1 teaspoon salt
1 teaspoon freshly ground black pepper
1 teaspoon pumpkin pie spice
2 strands saffron
6 cups chicken stock
8 oz. smokey sharp processed cheddar cheese
2 Tablespoons Sriracha hot sauce
chives and sour cream for garnish
Bake squash whole until it can be pierced easily with a fork. Peel, seed, and whip with an electric mixer until smooth. Place in a large stock pot. Peel and core the apples. Cut them into cubes. Peel and chop the onions. Melt butter in a skillet and add the apples and onions. Saute until tender. Add to stock pot along with the brown sugar and spices. Turn on burner under stock pot and cook squash mixture for one minute before adding the chicken stock. Lower the heat so the soup gently simmers, stirring occasionally, for 30 minutes. Remove from heat. Blend the soup in a blender (in 3 separate batches) until pureed and smooth. Return to stock pot. Add cheese. Simmer and stir until it melts (some cheese bits will remain.) Add Sriracha at the very end, mixing well. Pour into bowls, mugs or large teacups. Garnish with sour cream and chives.
Enjoy!
~Melissa
You may enjoy these related posts: