Print Friendly Version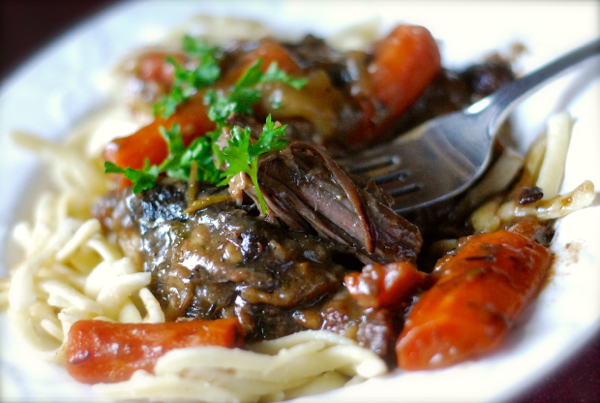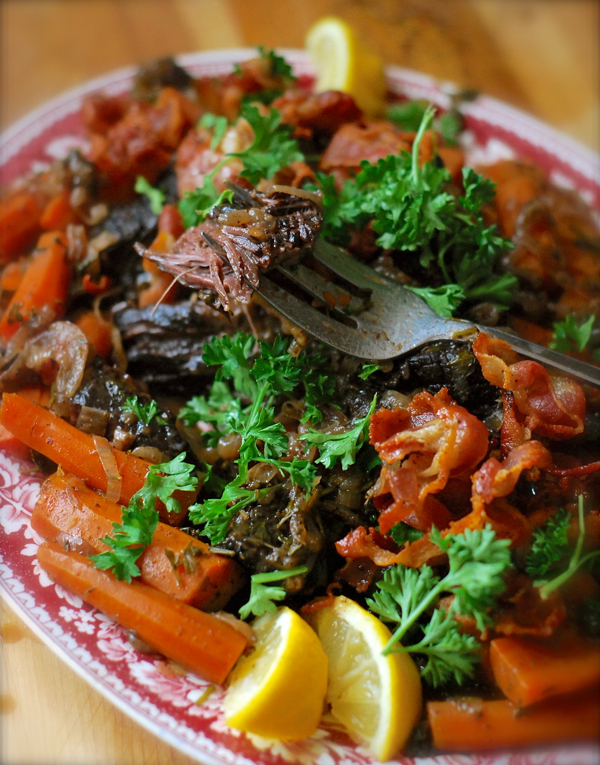 This is sort of an elaborate recipe. It's not difficult, but it is lengthy. Just bear with me 🙂 Also, if you want the more traditional, sliceable sauerbraten that you may have become accustomed to, use eye of round instead of chuck arm roast. I use chuck arm for everything because it's so damn amazing and it comes out perfect and tender EVERY. SINGLE. TIME. But, I'm not one to mess with tradition, so carry on.
If you've never enjoyed sauerbraten before you're in for a treat. It's what I like to call the German version of Boeuf Bourguignon. It kind of is. The spices and veggies are a bit different, which makes this dish so interesting and unique. I serve it with kluski "dumpling-style" egg noodles. They're the perfect accompaniment.
3 to 5 lb. chuck arm beef roast (or eye of round)
coarse sea salt and freshly ground pepper
2 cups red wine
2 cups beef stock
2 cups water
1 and 1/2 cups balsamic vinegar
3 large onions, thinly sliced
5 large carrots, peeled and cut into little sticks
1 Tablespoon pickling spices
4 whole allspice berries
14 whole cloves
10 whole black peppercorns
1 cup fresh parsley, chopped (plus more for final garnish)
1 Tablespoon fresh thyme leaves
1 teaspoon whole mustard seeds
6 Tablespoons unsalted butter
1/2 lb. bacon
1/4 cup all-purpose flour
2 Tablespoons brown sugar
3/4 cup raisins or sultanas
7 gingersnaps, crumbled
juice of 1/2 lemon
In a large bowl, rub the meat with salt and pepper. Bring wine, stock, water, vinegar, 1 onion, 1 carrot, pickling spices, allspice berries, cloves, peppercorns, parsley, thyme and mustard seeds to a boil in a medium saucepan. Pour over beef. Cover and refrigerate for 3 to 5 days, turning twice a day.
Once the marinading time is up, remove beef from marinade. Pour marinade through a fine strainer into a stock pot or big bowl. Dry beef thoroughly and remove all whole spices. Reserve the marinade and juices.
Heat 3 Tablespoons of the butter and the bacon in a heavy, 7 or 8 quart Dutch oven, over medium- high heat. Cook until bacon renders it's fat (approximately 8 to 10 minutes.) Transfer bacon to a bowl. Cover it and set it aside. Add the beef to the Dutch oven and brown well on both sides. (Approximately 4 minutes per side.) Transfer beef to a platter.
Heat oven to 325 degrees F. Add remaining onions and carrots to the Dutch oven and cook, stirring until caramelized and golden. Return beef to pot along with the reserved marinade. Bring to boil. Then, remove from burner, cover and place in oven to cook for 2 and 1/2 hours.
Once beef has cooked for the 2 and 1/2 hours and is very tender, transfer it to a platter. Set Dutch oven aside.
On a burner over medium heat, place a large, heavy skillet. Add remaining butter, flour and sugar to skillet. Whisking constantly, cook until the mixture is lightly browned. Add this mixture to the sauce in the Dutch oven, along with the raisins, gingersnaps, and lemon juice. Stir well. Return beef to sauce. Bring to a gentle simmer and cover the pot. Cook until the sauce is reduced and thickened a bit (10 minutes.) Arrange beef and veggies on platter. Spoon sauce over top. Sprinkle with the bacon and parsley. Serve individual servings over kluski noodles (prepared according to package directions) or mashed potatoes.
Enjoy!
~Melissa
You may enjoy these related posts: