Print Friendly Version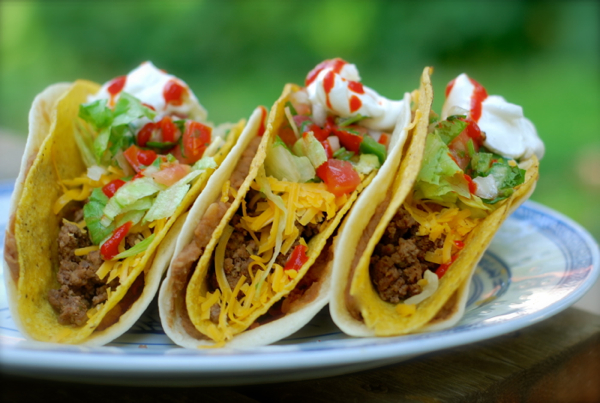 For my first "real" job, I worked at a bakery in Minneapolis called Bosa Doughnuts. I'll never forget that summer. I worked long hours (for a 15 year old) and spent almost every penny I made on clothes and cassette tapes. Do you remember your first job?
My second job was also a summer job, and I worked at Taco John's. I hated every minute of it. We had to wear brown polyester uniforms and I returned home every evening smelling like a burrito. The one silver lining was the discount we got on food while we were working. I ADORED their taco salads (with that awesome dressing!) The potato oles were a revelation (the next time you order them get a side of sour cream and a bunch of hot sauce to dunk them in. Heaven!) Another favorite were the Taco Bravos. Ever had one? Well, if you have, you totally know what I'm talking about. If you haven't, you have to either get yourself to the closest Taco John's you can find, or try my recipe. I personally like to make them at home so I can control the salt content and add as much cheese as I want. I enjoy freshly made pico de gallo instead of jarred salsa too. Tweak the recipe to suit your tastes.
What is a Taco Bravo? It's a soft shell flour tortilla with refried beans spread on it, wrapped around a hard shell beef taco. Genius idea! Ready?
for 10 Taco Bravos:
~ serves 5 people, 2 tacos each ~
10 soft shell flour tortillas (taco sized)
10 hardshell corn taco shells
2 (15 oz.) cans refried beans (I like vegetarian, low sodium) you may have extra
2 lb. lean ground beef
1 Tablespoon cumin
2 Tablespoons mild chili powder
1 teaspoon garlic powder
1 teaspoon onion powder
salt and pepper to taste
10 oz. shredded sharp cheddar cheese
shredded lettuce
chopped tomato
chopped onion
sour cream
salsa
hot sauce
Cook the ground beef in a skillet until no longer pink and hot all the way through. While the meat cooks, mix in the cumin, chili powder, garlic powder, onion, salt and pepper. Remove from heat and cover until ready to serve.
Empty cans of refried beans into a saucepan. Heat on low, stirring frequently, until heated through. Cover until ready to serve.
Heat soft shell tortillas and corn taco shells according to package directions.
Line up heated flour tortillas and divide the refried beans evenly between them. Spread the beans on the flour tortillas with the back of a spoon. Carefully wrap each prepared flour tortilla around the warmed hardshell taco shells. Fill tacos with beef, cheese, lettuce, tomato, onion, sour cream and hot sauce. Serve immediately.
Enjoy!
~Melissa
You may enjoy these related posts: