Print Friendly Version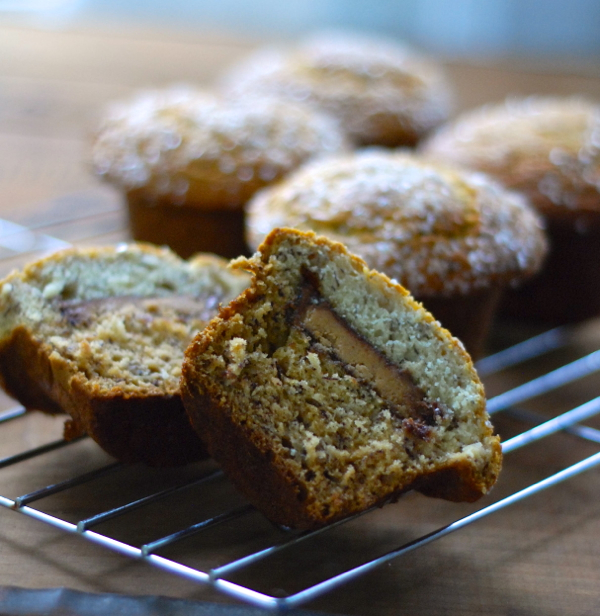 This morning me and my daughter Andie got together for an early coffee date and a quick trip to the grocery store. I got everything I need for my Thanksgiving recipe challenge. Now I'm playing with Captain Morgan Spiced Rum in my kitchen and having so much fun.
I started dinner simmering in the Crock Pot and the house smells fantastic. Tonight I'm making my favorite recipe for Beef Stroganoff, and I can't wait to share it with you. The Crock Pot ebook is taking a bit longer to design than anticipated, but it's getting there. I'm hoping to have it completed before Christmas, but with all of the new deadlines popping up on my calendar, we'll just have to see.
A couple weeks ago I had a pile of ripe bananas to use up and I made these yummy "peek-a-boo" muffins in an attempt to try something more creative than just plain banana bread. These turned out so delicious! They would make a fun after school snack for the kiddos. Gracie loved them with her tea.
1/3 cup butter
3 large, very ripe bananas, mashed
3/4 cup sugar
1 egg, lightly beaten
1 teaspoon pure vanilla extract
1 and 1/2 cups all-purpose flour
1 teaspoon salt
1 teaspoon baking soda
1 teaspoon baking powder
6 regular sized Reeses Peanut Butter Cups
Preheat oven to 375 degrees F. Spray 6 standard sized muffin tins with nonstick cooking spray, or use a Silpat/Demarle pan which requires no preparation. (For more about the Silpat/Demarle pans… Click on THIS LINK to learn more. They're awesome, and make baking and clean up such a breeze!)
Melt butter and allow to cool a bit. Mix bananas, sugar, egg, cooled butter and vanilla.
In a separate bowl, combine the flour, salt, soda and baking powder. Mix wet and dry ingredients together until just combined. Don't over-mix.
Fill muffin cups about 1/3 full. Place a peanut butter cup in the center of each of the muffins, pressing down gently so the batter is completely covering the sides and bottom of the peanut butter cup. The idea is to encase the peanut butter cup in the batter so when the muffins start to bake they don't leak out the sides. Top each of the peanut butter cups with more batter so the tins are almost full to the top.
Bake for 20 to 30 minutes or until golden brown and completely set. Allow muffins to cool for 15 minutes in the tins before removing from pan.
Enjoy!
~Melissa
You may enjoy these related posts: