Print Friendly Version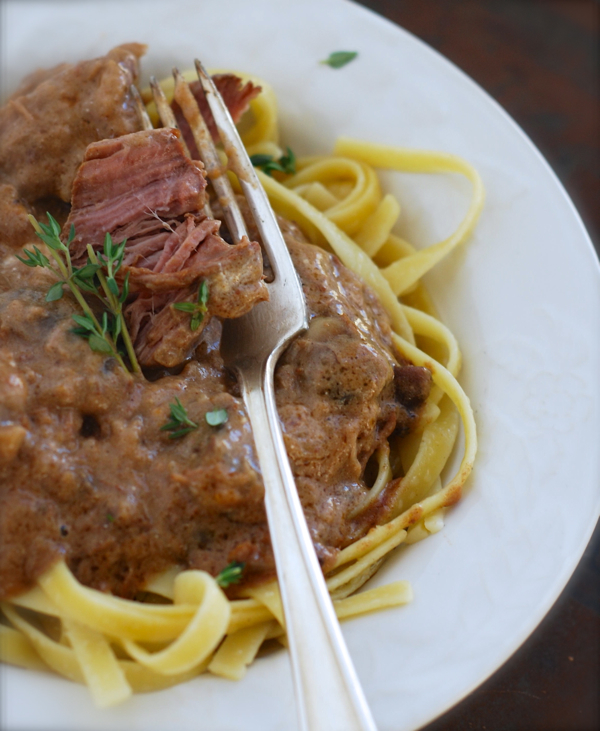 Hello, Lovelies. Oh my goodness, what a busy weekend. I was cooking up a storm and didn't get a chance to stop and share a new recipe or "scenes" post in this space until just this minute. On top of all that excitement, I got a cold. So I've been trying to take naps in the midst of the cooking frenzy and trying to take care of myself by sipping my Sleepytime Tea, my Ritz Carlton Ginger Tea (with extra ginger), taking Airborne, soaking in the bath, eating my minimalist chicken noodle soup and doing all of the things I do when I'm trying to get rid of the ickies as soon as humanly possible. What are your tricks for getting rid of a cold?
Last week I made this delicious Crock Pot Beef Stroganoff and we were all delighted with the results. I love when that happens. There have been a few slow cooker recipes that have been real flops on this quest to find the good ones, and I'm happy to report that this one is a winner. You are gonna love love love it!
~ serves 6 to 8 people ~
4 lb. chuck arm roast, excess fat removed
sea salt
white pepper
flour for dredging
3 Tablespoons olive oil
 5 Tablespoons butter
1 big onion, chopped
2 large cloves garlic, minced
1/4 cup tomato paste
2 bay leaves
1 Tablespoon fresh thyme leaves
1 packet dry onion soup mix
1/2 cup dry sherry or wine
16 oz. fresh mushrooms, washed, quartered, blotted
1 lb. fettuccini or egg noodles
8 oz. sour cream
Cut the roast into 1 and 1/2 inch cubes. Dry them well, using paper towels. Dredge them in a mixture of flour, salt and white pepper until well coated. Heat the olive oil in a skillet. Working in batches, brown the roast cubes in the hot oil, turning until all sides are golden. Place the beef in the Crock Pot. Add 1 Tablespoon butter to the skillet. Saute the chopped onion until translucent. Add the garlic. Saute an additional minute, until fragrant. Gently mix the onion and garlic mixture in with the beef. Stir in the tomato paste, bay leaves, thyme, onion soup mix and sherry. Cover Crock Pot and cook on the "LOW" setting for 6 to 8 hours.
During the last half hour of cooking time, prepare your noodles according to package directions for "al dente" pasta. Drain well, transfer  to a big pasta bowl and toss with a drizzle of olive oil so they don't stick together. Cover with foil so they stay warm while you finish the stroganoff.
Turn off Crock Pot and allow the contents to cool a bit while you brown your prepared mushrooms in another 2 to 3 Tablespoons butter. Add browned mushrooms to the Crock Pot, and gently stir them into the gravy. Once the contents of the Crock Pot have stopped boiling and cooled a bit, stir in your sour cream. (You can't add sour cream to boiling gravy or it will curdle.)
To plate: Put noodles in single serving pasta bowls, top with some of the stroganoff, garnish with a little sprinkle of fresh thyme leaves (if desired.) Salt and pepper to taste.
Enjoy!
~Melissa
You may enjoy these related posts: