Print Friendly Version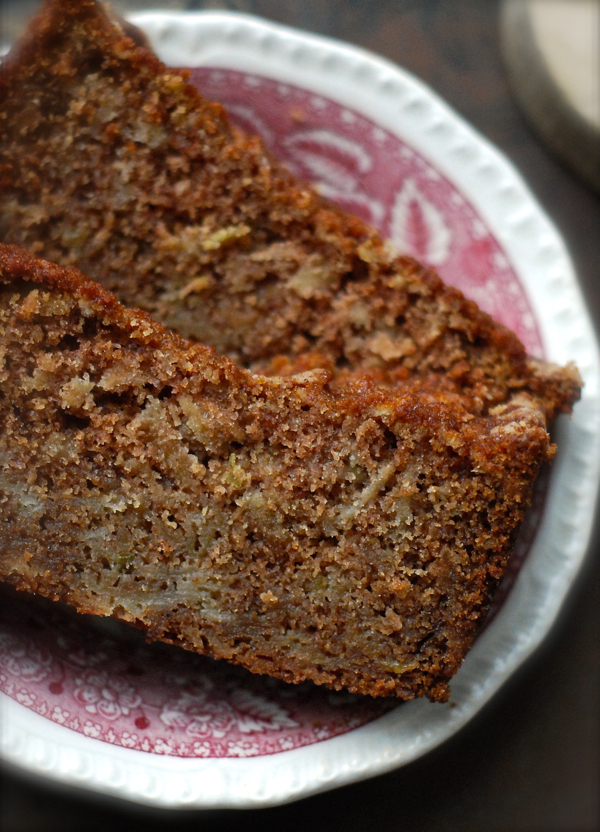 Mmmmmm…. nothing says cozy, cold weather fare to me like spicy quick breads with buttery streusel toppings for tea time. This is the moistest, most delicious apple bread I've ever had, and once again, proves that when it comes to some foods, less really is more. This makes a beautiful breakfast, lunchbox treat, after school snack, picnic meal (when paired with sharp cheddar cheese), dessert (with a dollop of fresh whipped cream or a scoop of ice cream) or teacher's gift for Christmas! This bread will keep for a week in an air-tight container in the refrigerator.
for the bread:
3/4 cup brown sugar
1/4 lb. + 3 Tablespoons real, unsalted butter, softened
1/2 teaspoon pure almond extract
2 large eggs
1 cup all-purpose flour
1 teaspoon baking soda
1 teaspoon baking powder
1/2 teaspoon ground cardamom
1/2 teaspoon ground cinnamon
1/8 teaspoon ground cloves
1/2 teaspoon salt
1 tart green apple, unpeeled and grated
1 sweet red apple, unpeeled and grated
Preheat oven to 350 degrees F. Butter and flour a 12 x 4 inch loaf pan. In a large bowl, beat brown sugar, butter and almond extract until light and smooth. Add eggs, and beat well. Add flour, baking powder, baking soda, cardamom, cinnamon, cloves and salt. Stir until just combined and everything is evenly incorporated. Fold in apples just until evenly incorporated. Using a rubber spatula, scrape batter into prepared pan.
for the streusel topping:
2 Tablespoons real, unsalted butter
1/4 cup all-purpose flour
2 Tablespoons brown sugar
1/2 teaspoon cinnamon
Mix all streusel ingredients together, using a fork, until large crumbs form. Sprinkle them evenly over apple bread batter.
Bake bread for 45 to 50 minutes, or until a toothpick inserted into the center of the loaf comes out clean when tested.
Cool for 10 to 15 minutes before gently turning out onto a plate. Serve slightly warm or at room temperature.
Enjoy!
~Melissa
You may enjoy these related posts: