Print Friendly Version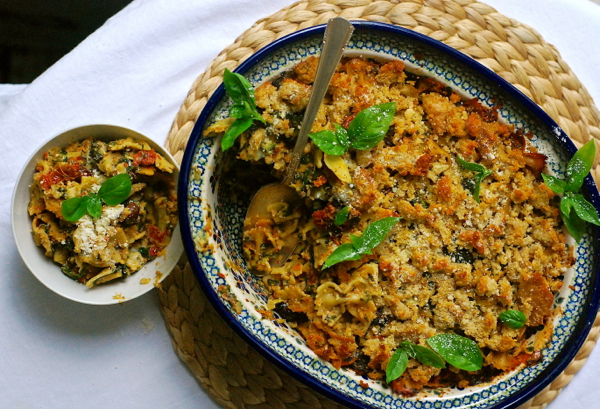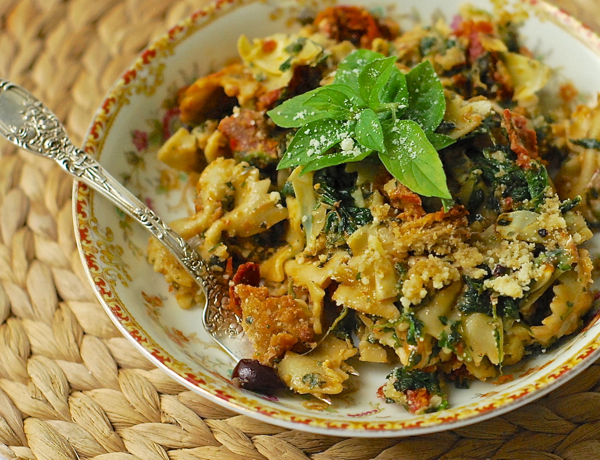 It's getting to be that time of year again. When I went for my morning walk today I could smell the faint scent of autumn approaching. The sumac is already edged in crimson and a few of the trees are beginning to turn that unmistakable amber-gold. The squirrels and birds are suddenly preparing for winter. And me? I'm making long lists of the books I will read, the bread I will bake, and the soups and casseroles I will prepare for my family. This time of year is all about spending time with our loved ones, and nesting and most of all it's about comfort food.
This casserole turned out amazing. It's most definitely Italian (you probably guessed that already just by looking at the name.) But seriously, this hearty Italian dish has everything except strolling opera singers and gondoliers. Dress your table in red and white, use chianti bottles as candle holders, put some Dean Martin and Bizet on the sound system and enjoy this dish with a glass of your favorite, dry wine. I like this with white wine, but it's good with red too.
~ preheat oven to 350 degrees F. ~
8 oz. whole grain bowtie pasta (I used Barilla Plus)
1 small onion, chopped
5 Tablespoons olive oil, divided
2 large garlic cloves, minced
2 jumbo eggs
1 cup milk
2 Tablespoons fresh parsley, chopped
2 Tablespoons fresh basil, chopped
1 Tablespoon fresh oregano, chopped
1/2 teaspoon freshly ground black pepper (we love Telicherry peppercorns)
1/4 teaspoon crushed red pepper flakes (or a little more if you like spicy)
2 large boneless, skinless chicken breasts
1/2 cup white wine
2 cups shredded Monterey Jack cheese
1 (14 oz.) can artichoke hearts, drained well, quartered
10 -12 oz. package frozen spinach, thawed and squeezed very dry
1/2 cup oil-packed sundried tomatoes, drained and chopped
25 Kalamata olives, sliced
6 Tablespoons freshly grated Parmesan cheese, divided
1 cup soft bread crumbs
2 Tablespoons butter, melted
1/2 teaspoon garlic powder
1/2 teaspoon onion powder
lemon wedges
Cook pasta according to package directions and drain well and set aside to cool. Saute onion in 1 Tablespoon of the olive oil for 5 minutes over medium heat. Add garlic and cook an additional minute. Remove from skillet and transfer to a plate. Set aside.
Heat 2 of the Tablespoons of the olive oil in the skillet. Cut the chicken in chunks and cook it in the oil until it's done and no longer pink. Transfer chicken to the plate with the onions and garlic. Deglaze skillet with the white wine, scraping up any brown bits from pan.
In a very large mixing bowl: whisk eggs, milk, fresh herbs, red pepper flakes and black pepper. Add the Monterey Jack, cooked chicken, onion and garlic mixture, skillet drippings/wine, spinach, sundried tomatoes, artichokes hearts, Kalamata olives and 3 Tablespoons of the Parmesan cheese. Mix well. Gently fold in the cooked, drained pasta. Transfer to a lightly oiled 3 quart glass casserole pan or a 9 x 13 glass baking dish. Smooth top with the back of a wooden spoon or a rubber spatula.
Bake, covered, for 45 minutes.
In a small bowl, mix the remaining Parmesan cheese (3 Tablespoons), the remaining olive oil (2 Tablespoons), the soft bread crumbs and the melted butter. Mix, using your fingers, until evenly incorporated.
Once the casserole has cooked, covered for 45 minutes, uncover it. Sprinkle the seasoned bread crumb mixture evenly over the top. Cook, uncovered, for an additional 15 minutes, (or until the casserole is golden and bubbly on the top.)
Plate and serve with extra, fresh basil sprigs and lemon wedges for squeezing over the top.
Enjoy!
~Melissa
You may enjoy these related posts: