Print Friendly Version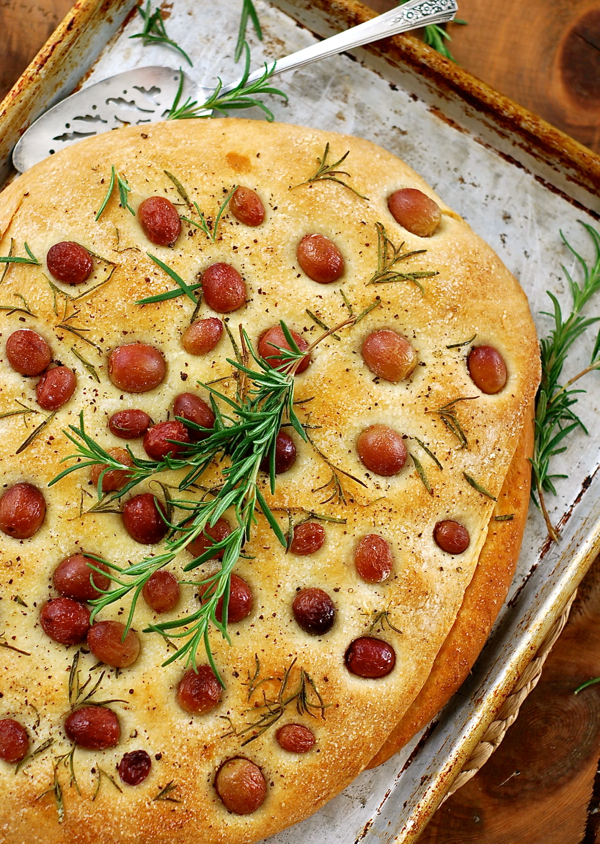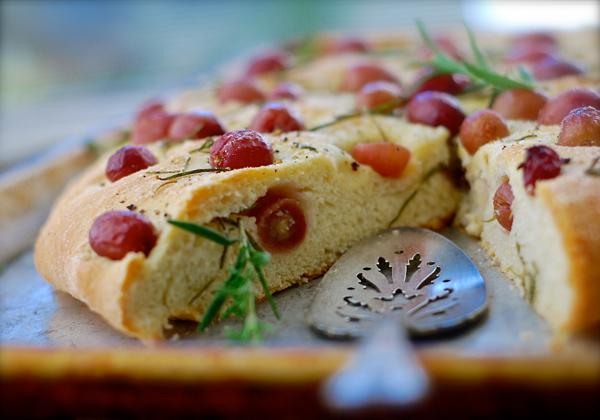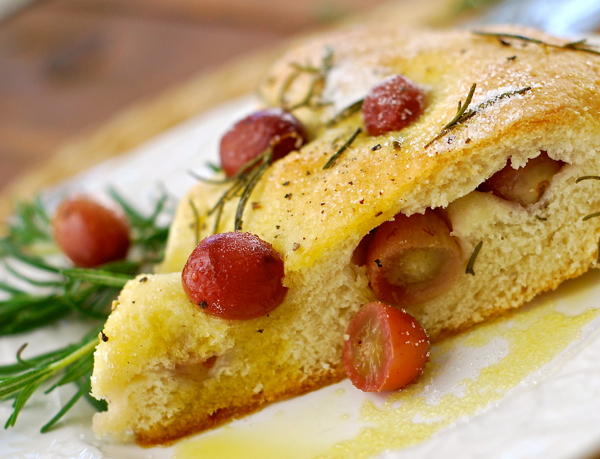 Originally called "schiacciata" this Tuscan flat bread has become known as focaccia by most Americans. It's traditionally made in the Chianti region of Italy to celebrate the annual autumn grape harvest.
Focaccia is beautiful served with a variety of your favorite cheeses, oven roasted garlic and a gorgeous bottle of wine… go for something light and fruit forward, such as a dry Riesling or Pinot Grigio.
1/4 cup sugar + extra for sprinkling over loaf
2 and 1/2 teaspoons active dry yeast
3 and 1/4 cups all purpose, unbleached flour
2 teaspoons salt
1/4 cup extra virgin olive oil + extra for drizzling
3 cups seedless red grapes
a large handful of fresh rosemary sprigs
freshly ground black pepper
In a small bowl, dissolve 1 Tablespoon of the sugar in 1 cup warm water (110 degrees F.) Sprinkle the yeast in the water and gently stir to combine. Allow the yeast and water to sit for 10 minutes (until foamy.)
In a large bread mixing bowl, combine 3 cups of the flour, 3 Tablespoons of sugar and the salt. Using a wooden spoon, mix until well combined (approximately 1 minute.) Dough will be shaggy and quite dry. Add the 1/4 cup of olive oil and the yeast mixture. Mix for an additional minute. Remove the dough to a lightly floured surface and knead until it becomes smooth and elastic (5 minutes.)
Oil a large glass bowl. Shape dough into a ball. Place dough in the oiled bowl and rub a little extra olive oil over the top. Cover with oiled plastic wrap and set in a warm, draft-free place for 2 and 1/2 to 3 hours, or until dough has tripled in bulk.
Preheat oven to 250 degrees F. Wash grapes and place them on a large baking sheet in a single layer. Place baking sheet in oven and cook grapes for 15 to 20 minutes (just until hot and juicy, don't allow grapes to cook so long that they burst.) Remove pan from oven and allow grapes to cool completely.
Generously brush a large baking sheet with oil (I use a jellyroll pan or an extra large pizza pan for this.)
When the dough has doubled in bulk, punch it down several times to remove all air bubbles. Divide it into 2 equal pieces. Form one piece into a flat disc and place it on the center of the prepared baking sheet. Using your fingers, gently spread into a 12 inch round circle. If the dough doesn't easily stretch, allow it to rest for 10 minutes and then try again. Spoon half of the grapes evenly over the top. Gently press the grapes down into the dough. Sprinkle 1 Tablespoon of sugar over the grapes.
Form the remaining piece of dough into a disc the same size as the first (approximately 12 inches around.) Place the second round over the grape-studded round. Press dough around edges to seal the two pieces of together. Scatter the remaining grapes over the top so they're evenly spread out. Gently press the grapes into the dough. Remove the leaves from the rosemary sprigs and sprinkle them evenly over the grapes. Generously drizzle olive oil over the top of everything, followed by another Tablespoon of sugar. Finally, grind a teaspoon of freshly ground pepper over that. Cover loosely with plastic wrap and set in a warm place until puffy (approximately 45 to 60 minutes.)
Position oven racks so the bread will bake in the center of the oven. Preheat oven to 375 degrees F. Bake until golden (30 to 35 minutes.) If it puffs up during baking, prick it with a wooden skewer to release the air. Remove to a wire rack to cool for 15 minutes prior to slicing and serving. This bread is wonderful warm or at room temperature.
Enjoy!
~Melissa
You may enjoy these related posts: