Print Friendly Version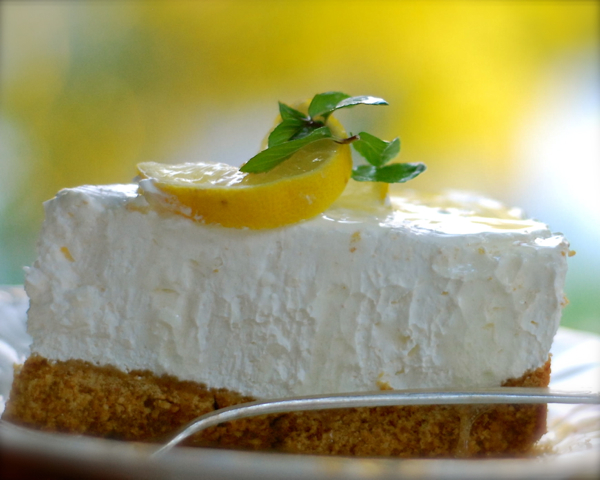 Okay, are you ready for REALLY easy? This is the easiest cheesecake I've ever made. The only part you bake is the graham cracker crust, and that takes 9 minutes.
Is this healthy? No, it is not. It has Cool Whip in it, which I know whips some of you into a frenzy. I don't cook with the stuff very often, but it's an absolutely necessary ingredient if you want to make this successfully and speedily.
Is this delicious? Yes, it is. Gracie requested it for her birthday cake this year. That limoncello syrup is going to knock your socks off. Double the recipe for the syrup if you're a limoncello fanatic. It's also awesome in iced tea.
Oh, and don't try using low fat versions of stuff for this recipe. I'm not trying to be a bossy cheesecake Nazi. If you don't use the fully loaded stuff your cheesecake will be watery and weird.
for the cake:
4 cups graham cracker crumbs
2/3 cup unsalted butter, melted (no substitutes)
16 oz. cream cheese softened to room temperature (not low fat)
16 oz. Cool Whip, thawed (not low fat… no, you can't use regular whipped cream)
1 cup sour cream (not low fat… and not greek yogurt)
1/2 cup limoncello
2 teaspoons pure vanilla extract
Preheat oven to 350 degrees F. Spray a 10 inch springform pan with nonstick cooking spray. Place graham cracker crumbs and melted butter in a medium mixing bowl. Mix well until the butter is evenly incorporated throughout the crumbs. Press the graham cracker mixture firmly into the bottom of the prepared springform pan.
Bake crust for 9 minutes. Remove crust from oven and allow it to cool for 30 minutes.
Beat the cream cheese, Cool Whip, sour cream, limoncello and vanilla in a large mixing bowl, using an electric mixer OR use your Kitchen Aid with the whisk attachment for super easy mixing. Mix until very smooth.
Once crust is cool, spoon cream cheese mixture into the springform pan. Smooth the top, using a rubber spatula, until even.
Place in refrigerator and allow to chill for 4 to 6 hours.
When the cake is completely chilled, gently remove sides of the springform pan. Remove bottom of pan and carefully place the cake on a pretty serving platter. Cut into 12 slices.
for the limoncello syrup:
1/2 cup limoncello
1/2 cup sugar
Simmer, stirring constantly, for 3 minutes over medium-low heat. Remove from heat and allow to cool completely before drizzling over cheesecake.
Garnish with lemon slices and fresh mint sprigs.
Enjoy!
~Melissa
You may enjoy these related posts: