Print Friendly Version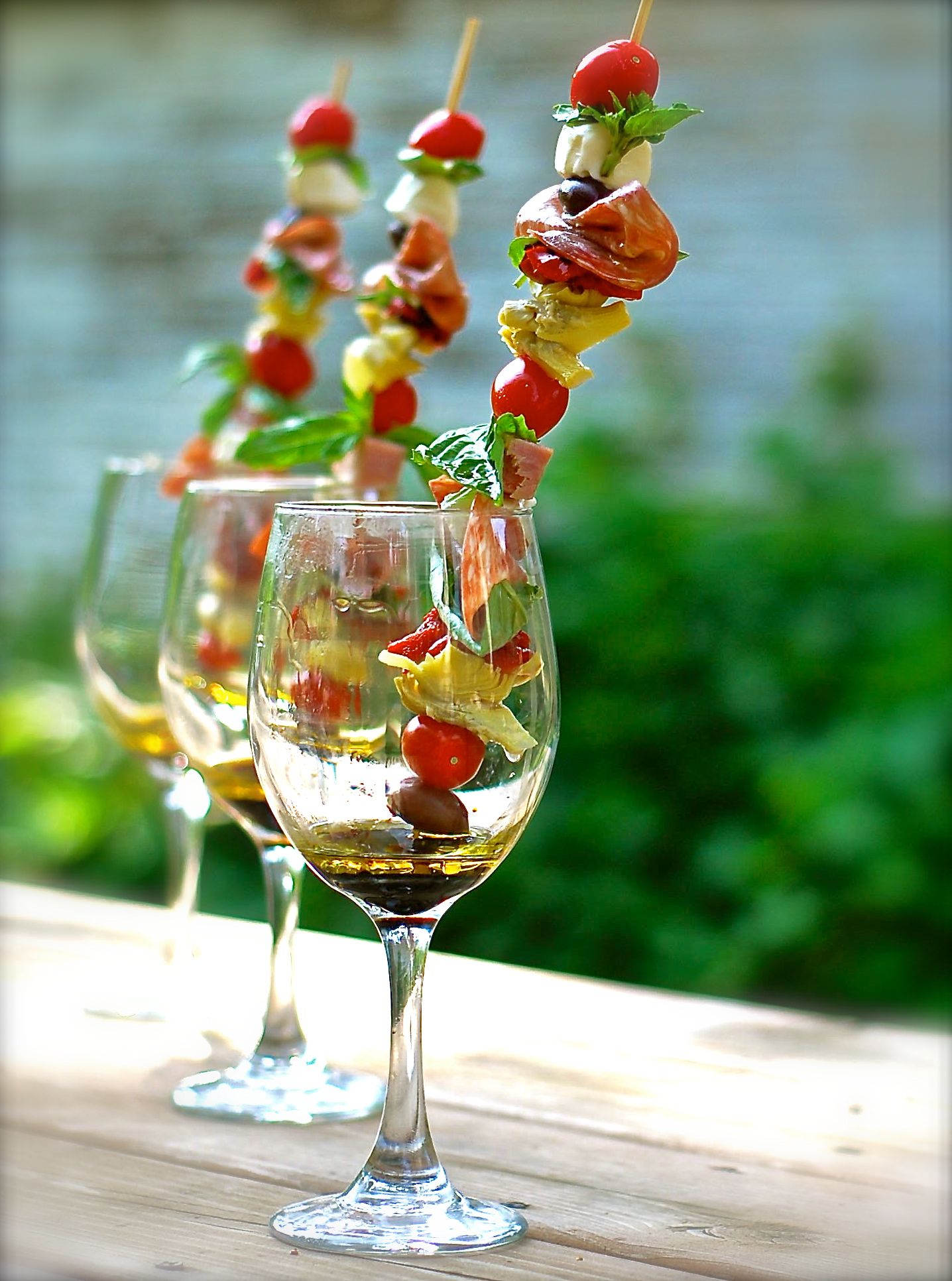 Here's a lovely, no-cook appetizer that is sure to please. These antipasto skewers are perfect for a cocktail party or wine tasting party. Just use the very best ingredients you can find and put them together 30 minutes before your guests arrive.
large wine glasses
bamboo skewers
cherry or grape tomatoes
marinated artichoke hearts, quartered
fresh mozzarella cheese balls (pearl type)
thinly sliced Genoa salami
smoked ham chunks
fresh basil leaves
Kalamata olives
canned, fire-roasted red peppers, cut into bite size chunks (or pepperoncini)
oven-roasted garlic cloves, cooled and peeled
unfiltered extra virgin olive oil
balsamic vinegar
freshly ground pepper
coarse sea salt
For maximum flavor, allow all ingredients to come to room temperature before putting them on the skewers. (At least 30 minutes… no more than 60 minutes.)
Drizzle some olive oil and balsamic into the bottoms of the large wine glasses. Pierce the tomatoes, artichoke heart quarters, cheese balls, salami, ham, basil leaves, olives, red pepper and oven roasted garlic cloves onto the bamboo skewers. Repeat, pushing the ingredients together on the skewers (you'll want to leave a little room at one end so they can be held.) Place in wine glasses. Drizzle a little more oil and vinegar over, sprinkle with salt and pepper. Serve.
Enjoy with a glass of your favorite wine!
~Melissa
You may enjoy these related posts: