Print Friendly Version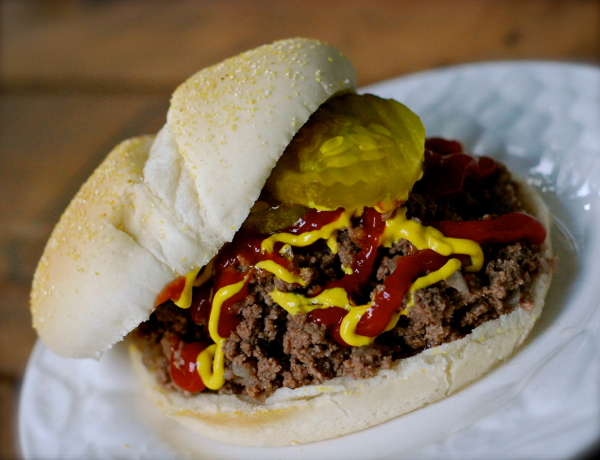 We just returned home from a loooong day in the cities… We went to the Mall of America to do some school clothes shopping and then to the Cheesecake Factory to celebrate Gracie's 14th birthday. All of the walking around has worn me out. But, before I retire for the day, I just had to share this easy, yummy recipe with all of you.
One of my readers wrote to me, commenting on how much she enjoyed making my Sloppy Joes for her family and in the same message she asked me if I had ever tried Maid Rite sandwiches. She described them to me and I decided then and there that I had to try making them. So, I scoured the internet for a good recipe. According to several posts I found online regarding this little sandwich, this is a pretty close replica (as far as I can tell.) Several people said that the "secret" to making them taste authentic is to add cola, which I did. There are LOTS of recipes online, some with cola and some without. I personally like the sweetness the cola adds to the sauce, and what I noticed is that most of the time when I found a recipe that didn't include cola, it did include sugar or brown sugar.
These really are awesome and remind me a bit of the Coney sauce I make for my Coney Island "Red Hots." Give them a try and let me know your thoughts!
Read a little about the history of this sandwich HERE if you like. And HERE is the company's website if you'd like to visit the restaurant!
3 lb. ground chuck
1 large onion, finely chopped
1 Tablespoon prepared mustard
12 oz. Coca Cola
2 Tablespoons Worcestershire sauce
2 Tablespoons apple cider vinegar
1/4 teaspoon salt
8 to 10 warmed hamburger buns
ketchup, mustard, chopped onions and pickles for serving
Place the ground chuck, chopped onion, mustard, cola, Worcestershire sauce, vinegar and salt in a large saucepan. Stir well and break up meat chunks with a fork.
Bring to a boil and then immediately turn the flame on low and allow the meat mixture to simmer for an hour, uncovered. Stir frequently until most of the liquid has cooked away and has thickened considerably.
Warm the hamburger buns and top each with a generous amount of the meat mixture, along with your desired toppings. Die hard Maid Rite fans say that they would never dream of adding ketchup… but we like ketchup on ours, as the picture indicates. You be the judge. 😉
Enjoy!
~Melissa
You may enjoy these related posts: