Print Friendly Version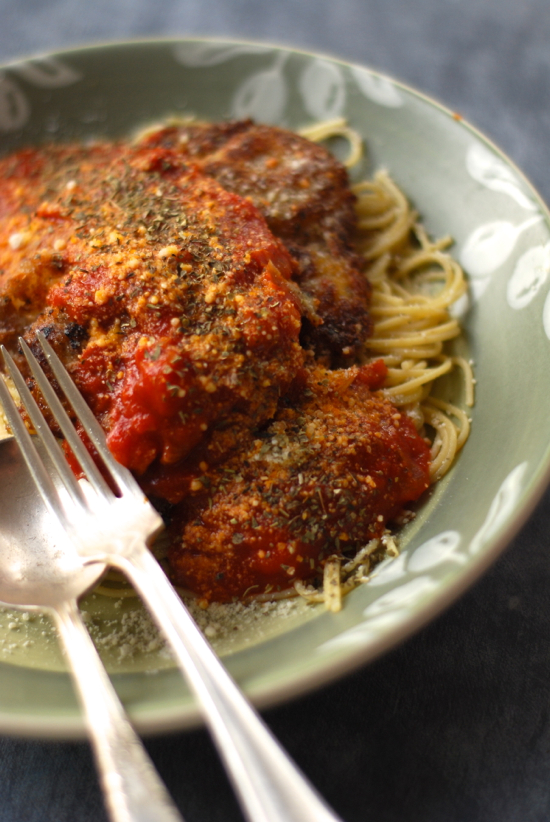 ~ chicken parmesan ~
" The trouble with eating Italian food is that five or six days later you're hungry again." ~George Miller
This is a recipe that Jeff and I came up with together. It's really good, and takes a little planning, but the end result is worth it.
for the chicken:
4 large, boneless skinless chicken breasts pounded "paillard" style
2 cups Newman's Own Italian dressing
1/2 cup dry white wine
2 large garlic cloves, minced
1 egg, beaten
1 and 1/2 cups Italian seasoned, dry bread crumbs
1/2 cup grated Parmesan cheese
2 teaspoons onion powder
1 teaspoon garlic powder
salt and pepper
mozzarella cheese
parmesan cheese
Pound the chicken breasts flat by slicing them horizontally and then placing them, one at a time, in a large ziploc bag and gently flatten them with a poultry mallet or the side of a hammer head.  Pour the Italian dressing, white wine and garlic cloves in a small, glass cake pan. Place the chicken in the cake pan, turning it to coat both sides well. Cover and allow to marinate in the refrigerator for at least 4 hours.
While the chicken is marinating, make the sauce. (See below.)
When you're ready to begin cooking the chicken, remove from refrigerator, uncover, and remove the chicken breasts to a plate. Add the beaten egg to the glass cake pan with the dressing in it and stir until combined.
Heat light olive oil (about an inch deep) in a heavy skillet.
In a big mixing bowl, combine the bread crumbs, Parmesan, onion powder, garlic powder, salt and pepper. Dip the chicken breasts in the egg mixture, dredge in the bread crumb mixture and fry them in batches in the light olive oil, until just done and juices run clear (about 2-3 minutes per side.)
Place the fried chicken breasts on a cookie sheet. Sprinkle with mozzarella and parmesan cheese and place in a 350 oven long enough to melt the cheese. Remove from oven and cover with heavy duty aluminum foil to keep warm.
for the sauce:
2 pieces bacon
2 medium onions, chopped fine
1 (29 oz) can tomato sauce
1 (26 oz) jar marinara sauce
1 (18 oz) can tomato paste
2 cups red wine
4 garlic cloves, minced and sauteed in a little butter for one minute
3 Tablespoons fennel seeds
1 Tablespoon dry Italian seasoning
Place the bacon in a big stock pot. Cook until crispy. Remove bacon to a plate and crumble when cooled. Saute the chopped onion in the bacon grease until tender and lightly browned. Add the rest of the ingredients, including the bacon. Simmer over low heat, stirring occasionally, until the sauce is somewhat thickened and reduced.
To plate:
Place a mound of hot, al dente spaghetti noodles on a plate or in a single serving pasta bowl. Place a Parmesan chicken breast on top of the spaghetti, and pour the hot sauce over. Sprinkle freshly grated Parmesan cheese over everything.
Enjoy!
~Melissa
You may enjoy these related posts: