Print Friendly Version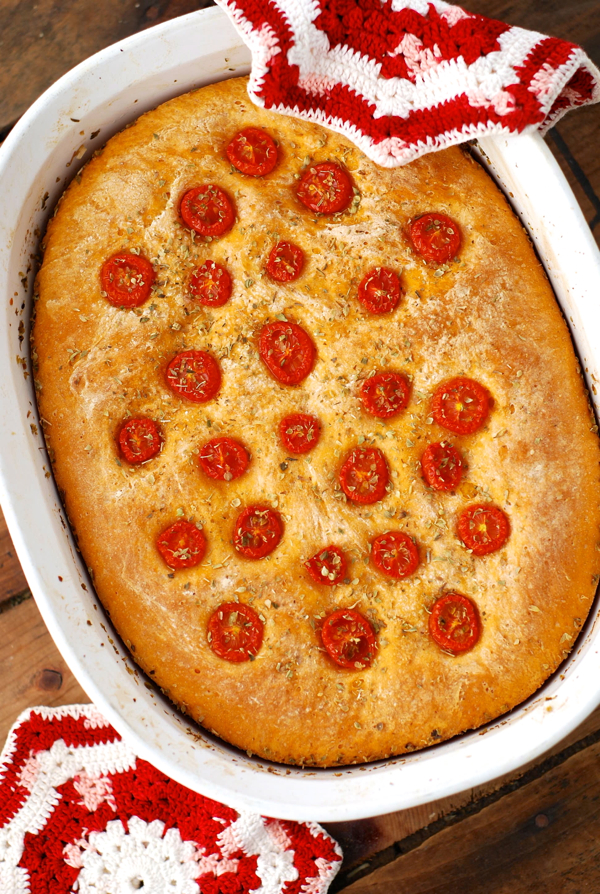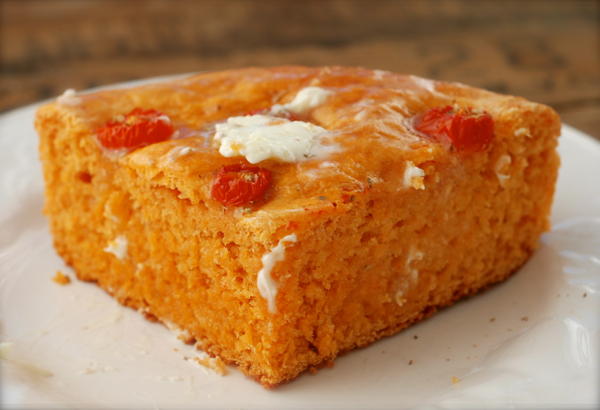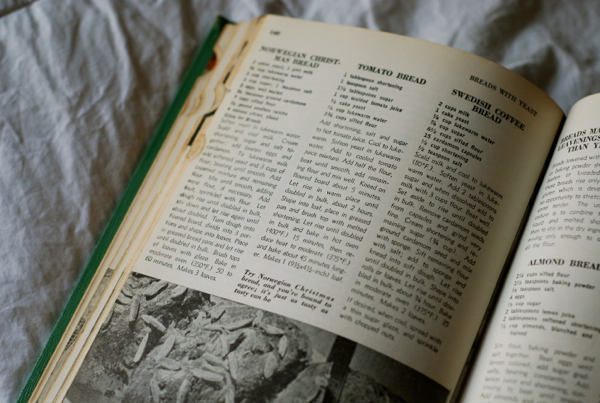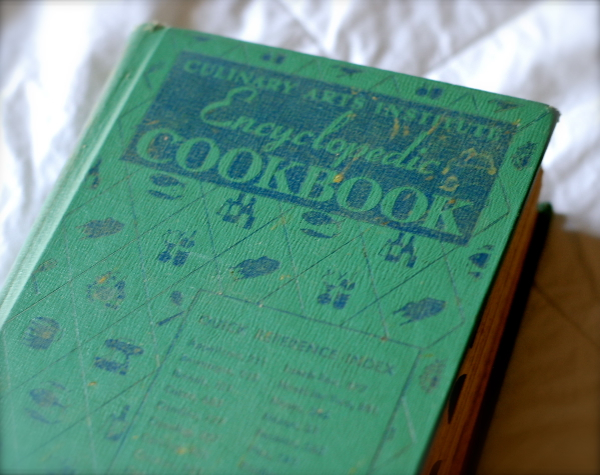 This has been such a fun winter for delving into my vintage cookbook collection and actually making some of the recipes I've found within their covers. I've been known to fastidiously comb each page of a vintage cookbook, write down the recipe titles followed by a short description of the dish and the page number, carefully fold the list, tuck it inside the front cover and never cook anything listed. What's up with that?
This is one of those recipes that was inspired by a vintage creation. I didn't have the tomato juice that the original recipe calls for, so I used watered down tomato sauce. I used butter instead of shortening, which caused the loaf to be more moist and dense, which I love. The original recipe called for way more flour than I ended up using… a whopping 3 and 1/2 cups. If you figure out how to incorporate that amount of flour into this loaf, please share your secret with me. I also decided to bake the bread in the casserole dish that I used for proofing the loaf. It looks charming and cuts down on dirty dishes and cooking steps.
2 Tablespoons real butter, divided
1 teaspoon salt
1 and 1/2 Tablespoons sugar
1 (8 oz.) can tomato juice + water to equal one cup liquid
1 packet active, dry yeast
1/4 cup lukewarm water
2 to 3 cups unbleached, all purpose flour
5 grape tomatoes or cherry tomatoes, sliced
dry oregano for sprinkling top of loaf
In a saucepan, combine 1 Tablespoon of the butter, salt, sugar and tomato juice/water mixture. Heat until sugar dissolves and butter melts. Remove from heat and pour into a large mixing bowl and allow it to cool to lukewarm.
Butter a 2.8 liter casserole pan with the remaining butter. Set aside.
Place the 1/4 cup lukewarm water in a custard cup and sprinkle the yeast over the top. Gently stir and allow it to sit until yeast is dissolved and slightly foamy (approximately 5 minutes.)
Add yeast mixture to cooled tomato mixture. Add 1 to 2 cups of flour, using a wooden spoon or your hands (until dough is sticky but kneadable.) Turn out onto a floured surface and knead for 5 minutes, adding as much flour as necessary as you go. Once dough is kneaded, form it into a ball and place it in the buttered casserole dish. Lightly butter top of loaf. Cover with lightly buttered plastic wrap and set in a warm place. Allow dough to rise for 2 hours. Once two hours is up, form dough into a loaf shape and place it back in the casserole pan. Allow it to rise until doubled in size.
Gently place tomato slices on top of loaf and sprinkle with a little dried oregano.
Heat oven to 400 degrees F. Once heated, place bread in oven to bake for 15 minutes. Reduce heat to 375 degrees F. and bake an additional 25- 35 minutes, or until loaf is golden brown on top and sounds hollow when tapped. Remove from oven. Cool in pan for 5 minutes. Carefully turn out onto a wire cooling rack to cool completely. Serve warm or at room temperature. This bread is wonderful when generously buttered and served with soup.
Enjoy!
~Melissa
You may enjoy these related posts: