Print Friendly Version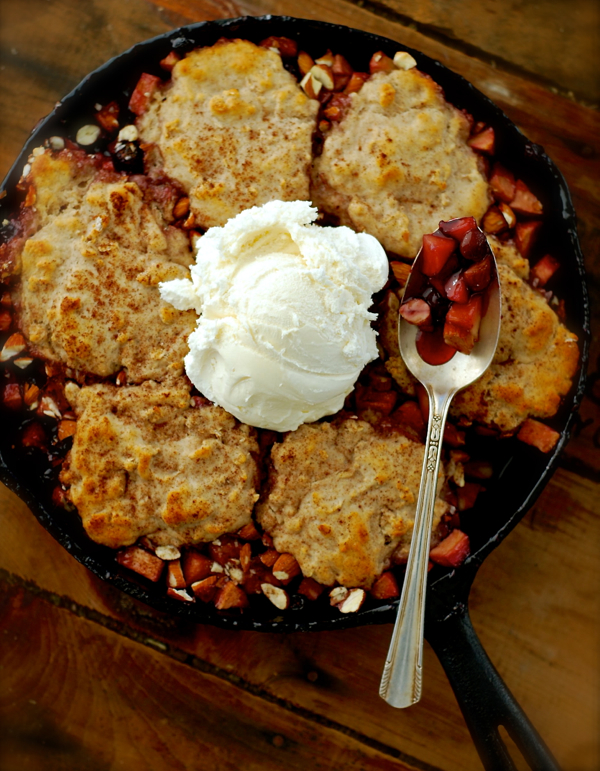 What a busy week in the kitchen! I've been creating all sorts of new dishes to share, writing down my recipes and taking photos. I'm so excited to post them here in this space. I hope you love them all as much as we do.
This dessert was SO good. Jeff had been asking for dessert after dinner for a few days in a row, so I knew it was time to make something. But what? I went "shopping" in our freezer and found a bag of frozen blueberries. We had piles of apples on the farm table. At first I thought "pie!" and then I started to feel tired just thinking about making pie crust or pate brisee…. no, it had to be something easier. Maybe a crisp or a crumble? No. I already have a fantastic berry crumble on my blog and I for sure wanted to make something new that I could blog about. Then it hit me. Cobbler! Of course! And in my trusty cast iron skillet which always yields the best, bubbly desserts and pretty photos. So…. without further ado….
~ preheat oven to 400 degrees F. ~
Make the cobbler dough:
1 cup  unbleached, all-purpose flour
1/2 cup whole wheat flour
1/2 cup old fashioned oats
1/4 cup sugar
4 and 1/2 teaspoons baking powder
1 teaspoon salt
1 teaspoon cinnamon
1/8 teaspoon ground cloves
1 cup milk
1/4 cup plain greek yogurt
4 Tablespoons melted butter, cooled a bit
Place all ingredients in a large mixing bowl and mix until just combined. Set in refrigerator until you're ready to top the cobbler.
Make the fruit filling:
12 oz. frozen blueberries
3 sweet apples, peeled and cut into 1/2 inch cubes
1/2 cup orange juice
2 Tablespoons apple cider vinegar
1/2 cup brown sugar
1/4 cup white sugar
2 Tablespoons tapioca starch
1 teaspoon pure almond extract
1/2 cup coarsely chopped almonds
In a 10 inch, cast iron skillet, heat the fruit, orange juice, vinegar, and sugars over medium heat. Once it starts to bubble, and all sugar is dissolved, turn heat to medium-low, add the tapioca starch by sprinkling it evenly over the fruit mixture and gently mixing it into the juices. Once everything is thick and bubbly, remove from heat and stir in almond extract. Sprinkle the chopped almonds over the filling. Drop the cobbler dough into 7 "dumplings" on top of everything. Sprinkle with a little more cinnamon to make it pretty. Place skillet on a large baking sheet. Place in oven and bake for 25 minutes. Dumplings should be a light golden brown and completely set. Remove from oven. Serve warm, or at room temperature with a scoop of premium vanilla ice cream.
Enjoy!
~Melissa
You may enjoy these related posts: