Print Friendly Version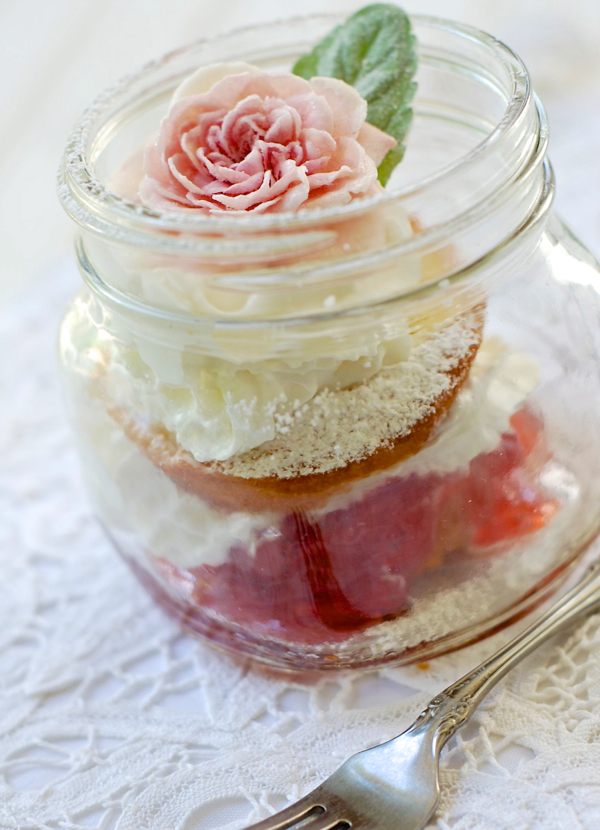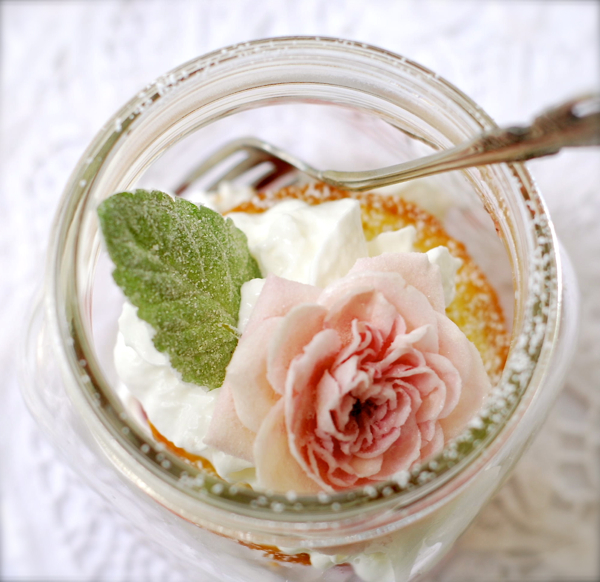 I've been having so much fun creating jar recipes and decided to start a collection for a tea party "to go."
The beauty of the tea party to go is that all of these delicious treats can be packed into jars with tight fitting lids and kept on ice, in your cooler, until ready to serve. This makes taking a tea party along with you to someone's home, to the park or on a little road trip both fun and easy!
You could start with more casual picnic fare or pack tea treats such as: cucumber sandwiches, dilly egg salad tea sandwiches, carrot cheddar curry tea sandwiches, English scones with lemon curd or rhubarb-lavender curd, and Devonshire cream, cold peach soup or cold pea soup, gazpacho, tearoom fruit cup salad, teacup cake and these little delights…
~ preheat oven to 400 degrees F. ~
yield: 6 Mini Victoria Sponge Cake Jars
6 Tablespoons unsalted butter + more for buttering muffin tin
1/2 cup sugar
2 large eggs
2 teaspoons warm water
1/2 teaspoon pure almond extract
3/4 cups all purpose flour, sifted
1/2 teaspoon baking powder
12 Tablespoons raspberry or strawberry jam
real, canned sweetened whipped cream
 6 candied/crystallized flowers and 6 crystallized mint leaves
Generously butter a 6 cup muffin tin. Beat butter and sugar until fluffy. Add eggs, one at a time, beating well after each addition. Mix in water and almond extract and stir in until just combined. Add flour and baking powder and mix just until smooth and evenly incorporated.
Fill the 6 buttered muffin cups about 2/3 full with the sponge cake batter. Bake in preheated oven until golden and a wooden skewer inserted into the center of a cupcake comes out with just a few crumbs stuck to it. Remove from oven and allow cakes to cool for 2 minutes before turning out onto a cooling rack to cool completely.
Once cooled, split the cakes in half horizontally. Place the bottom halves of the cakes in the bottoms of 6 wide mouth, pint sized Mason jars. Top bottom halves with 2 Tablespoons of jam each. Top the jam with the cupcake tops.
Cover jars tightly using jar lids. Refrigerate, or pack on ice, until ready to serve. These little cakes will keep for about 4 hours in a refrigerator or cooler.
Once you're ready to serve the Victoria Sponge Cake Jars:
Remove jar lids. Take sponge cake tops off. Add whipped cream. Replace cake tops. Add a little more whipped cream and a crystallized flower and mint leaf to each. (If you don't have access to crystallized flowers you could make some or just use your favorite, fresh, unsprayed edible flowers, rose petals and/or fresh mint leaves.)
Enjoy with a jar of iced tea or a jarred, iced Arnie Palmer!
Happy Tea Time!
~Melissa
You may enjoy these related posts: