Print Friendly Version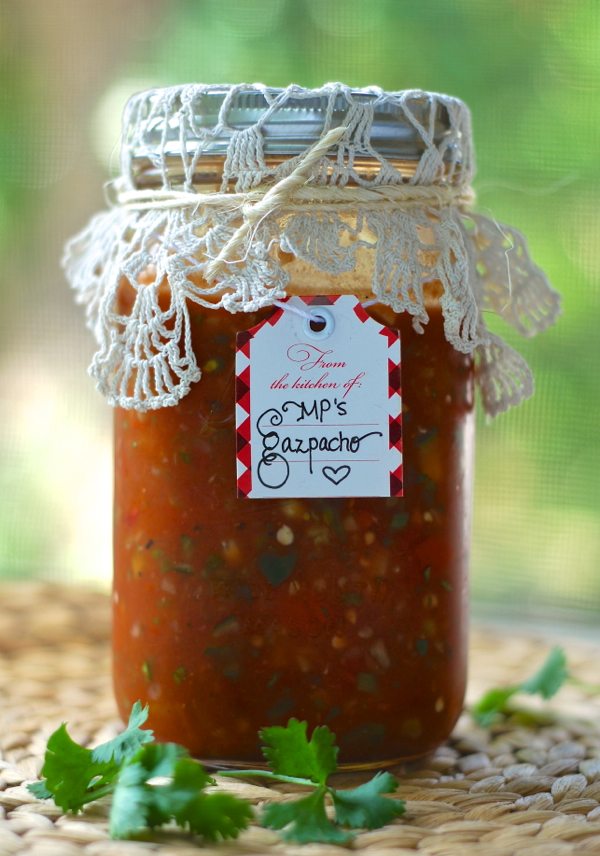 I've made about 3 gallons of this lovely, cold, tangy, healthy tomato lusciousness over the last few days and it's almost gone. We are all completely in love with it. The key to truly amazing gazpacho is to use the freshest, organic vegetables and herbs possible. We get ours from our garden and nearby farm stands and farmer's markets.
You can substitute parsley for the cilantro, green bell pepper for the banana pepper, red wine vinegar for the balsamic, and omit the serrano pepper and cayenne if you don't enjoy spicy. This, in my opinion, is the last word on gazpacho. I've been making this soup for years, and I've never tried a better version.
PS…don't omit the salt, citrus or sugar…they are all needed to create the perfect balance of flavor and acidity.
Hope you love this as much as we do 😉
~ yield: 2 and 1/2 to 3 quarts ~
2 to 3 lb. fresh, juicy, tomatoes
1/2 cup extra virgin olive oil
2 Tablespoons balsamic vinegar
2 large banana peppers (fresh, not pickled)
1 Serrano pepper OR 1 Tablespoon Sriracha hot sauce
2 large garlic cloves
juice of one large, juicy lemon
juice of one lime
1 large English or Armenian cucumber (long hard type)
6 large scallions + green tops, chopped
1 Tablespoon sugar
2 to 3 teaspoons sea salt
2 teaspoons freshly ground black pepper
1 teaspoon cumin
1/2 teaspoon cayenne pepper
3 to 4 cups cold tomato juice (if you use canned, get the organic stuff like "Knudsen's")
1 Tablespoon finely chopped cilantro and/or parsley
Chop one pound of the tomatoes, 1/2 of the cucumber,  and one of the banana peppers, into little 1/4 inch chunks and place them in a large mixing bowl.
Take the other pound of tomatoes, the other 1/2 cucumber, and the other banana pepper, and cut them into big chunks. Place the chunks in the bowl of a food processor along with the olive oil, balsamic vinegar, Serrano pepper, garlic cloves, citrus juices, scallions, sugar, salt, pepper, cumin, and cayenne. Pulse until chunky-smooth and uniform.
Pour the contents of the food processor into the large bowl. Stir to combine with the veggie chunks in the bowl.
Add the tomato juice, cilantro and/or parsley. Stir to combine.
Transfer the gazpacho to a glass container with a tight fitting lid. (I use canning jars, or a big pickle jar.)
Chill for at least 4 hours prior to serving.
We love this gorgeous, cold, vegan delicacy! Perfect on a hot summer day!
Enjoy!
~Melissa
You may enjoy these related posts: