Print Friendly Version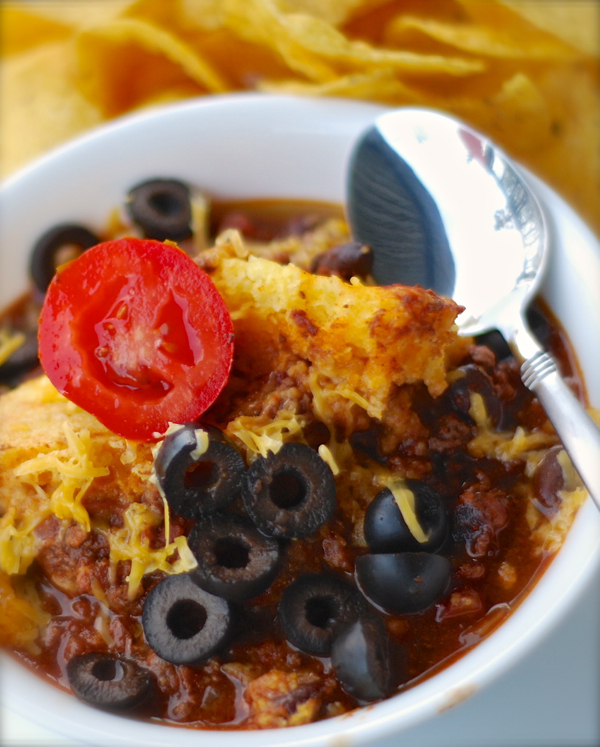 Hellooooo, Lovelies! It's been hotter than the blazes here in MN the past couple weeks. Like unbelievable, melt your mascara off, hot. It started when we were up north vacationing. I can't remember ever visiting the northern part of the state when it was hot. We usually bring our fall coats up, even in August, because Duluth and surrounding areas are notoriously 20 to 30 degrees cooler than the rest of the state.  Not this time! Only in Minnesota do you pack swimsuits, shorts, flip flops and parkas in the same suitcase "just in case." Crazy, weird, unpredictable weather. That's MN.
We were SO happy we brought our Crock Pot on vacation. (That sentence makes me giggle.)  We stayed in a gorgeous suite, and decided to do some cooking in the pretty kitchen instead of going out for every meal. Crock Pot meals seemed like a good solution. I made Cozycakes Cottage Beef Stew (which was outstanding,) an easy Italian meat sauce (for dunkers,) and this wonderful chili. All of the recipes were a success, and SO easy!
for the chili:
1 lb. extra lean ground beef or bison
1 medium onion, chopped
1/4 cup olive oil
2 (15 oz.) cans petite diced tomatoes, undrained
1 (15 oz.) can black beans, drained and rinsed
1 (15 oz.) can red beans, drained and rinsed
1 (15 oz.) can sweet corn (or "mexi corn"), drained (optional)
1 (8 oz.) can tomato sauce
1/2 cup dry red wine
1 large garlic clove, minced
1/4 cup chili powder (make sure you use the kind with no salt added, I use ancho chili powder)
1 Tablespoon chipotle powder
1 Tablespoon cumin
1 Tablespoon paprika
1/4 teaspoon cayenne pepper
1 teaspoon freshly ground black pepper
2 teaspoons Lawry's seasoned salt
1/2 teaspoon curry powder
1/2 teaspoon cinnamon
Brown the ground beef and chopped onion in the 1/4 cup of olive oil. Transfer to a 6 to 7 quart Crock Pot. Add the rest of the ingredients for the chili and stir to combine. Cover and cook on high heat for 4 hours.
for the cheesy cornbread:
1 (8.5 oz.) Jiffy cornbread mix
1/2 cup shredded sharp cheddar or pepper jack cheese
1 large egg
1/3 cup milk
Combine the cornbread ingredients until just incorporated and moist. During the last hour of cooking time for the chili, drop the cornbread batter by large spoonfuls onto the top of the chili. Return cover to Crock Pot. Cook that last hour. Scoop into bowls and garnish with fresh chopped tomato, sliced black olives, a little chopped cilantro and extra shredded cheese!
Enjoy!
~Melissa
You may enjoy these related posts: