Print Friendly Version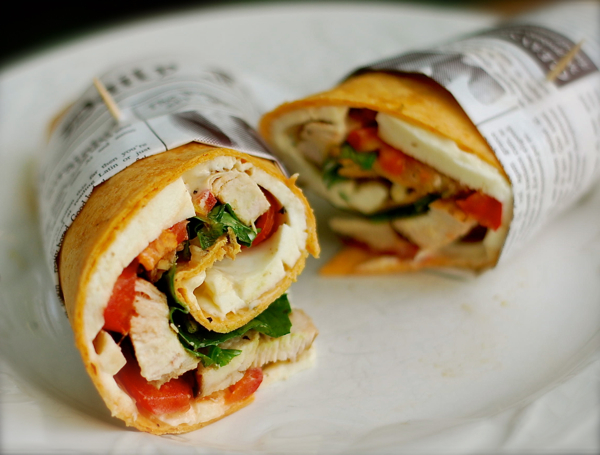 These healthy, flavorful wraps make a wonderful, light lunch or dinner! Everyone seems to love wrap sandwiches. I've served them several times for casual, tea party luncheons. Use the most colorful wraps you can find (my favorites are spinach and sun-dried tomato.) Feel free to use warm chicken, fresh off the grill, or cold chicken leftovers. Either way, these sandwiches are delicious. Enjoy with your favorite soup, fries, chips or fruit.
for one sandwich wrap:
1 (10 inch) sandwich wrap or soft flour tortilla (I used sun-dried tomato)
2 Tablespoons lemon garlic mayonnaise (recipe below)
approximately 2 oz. fresh Mozzarella cheese, sliced thin
1 small, grilled chicken breast, sliced into thin strips
1 small Roma tomato, sliced thin
7 large basil leaves, washed and patted dry
coarse sea salt
freshly ground pepper
Place sandwich wrap/tortilla on a plate. Spread the lemon garlic mayo evenly over the top. Top with even layers of the ingredients listed above, in the order that they're listed. Carefully, and as tightly as possible, roll up the wrap. Secure with toothpicks, carefully wrap with cooking parchment or fry basket papers. Cut in half on the diagonal, and serve.
for the lemon garlic mayonnaise:
2 Tablespoons real mayonnaise
2 teaspoons fresh lemon juice
1 teaspoon fresh lemon zest
1 teaspoon freshly minced garlic
Enjoy!
~Melissa
You may enjoy these related posts: