Print Friendly Version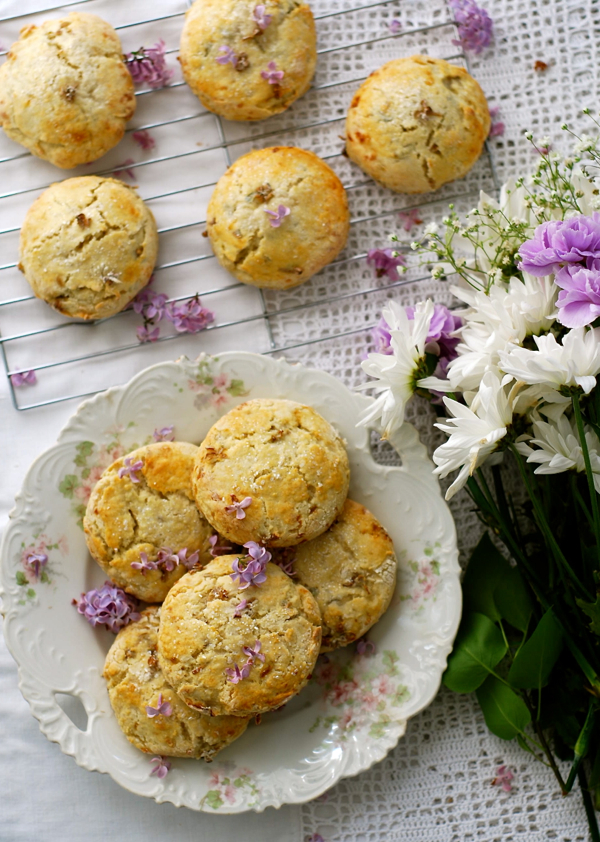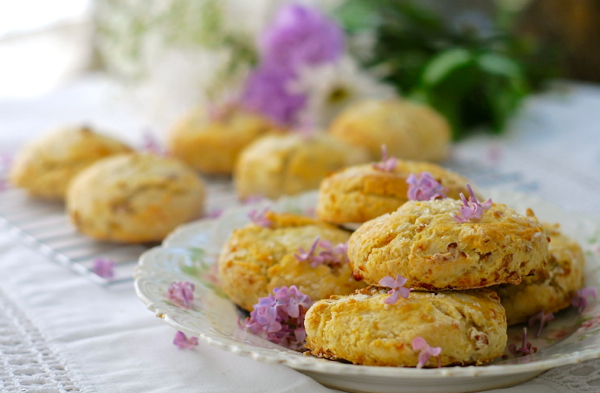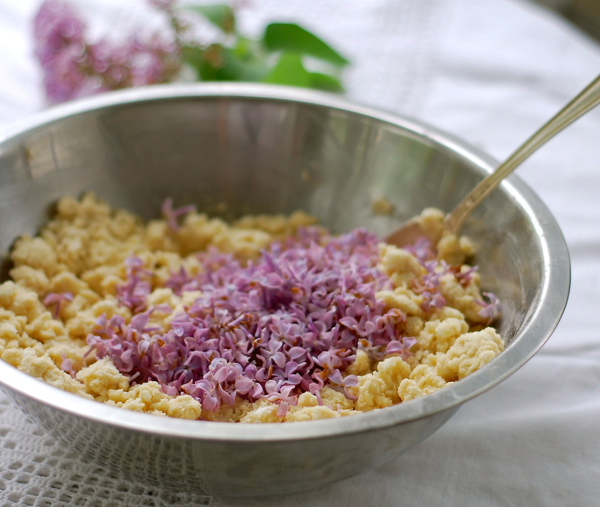 These are the perfect addition to a garden tea party. I love cooking with edible blossoms! These aren't the tallest scones I've ever made, but my addition of cottage cheese makes them incredibly tender.
~ makes approximately 8 to 10 large scones ~
~ preheat oven to 425 degrees F. ~
3 cups all purpose flour
1/3 cup sugar
1 Tablespoon baking powder
1/2 teaspoon baking soda
12 Tablespoons cold unsalted butter, cut into chunks
1/2 cup unsweetened almond milk
1/2 cup 2% cottage cheese
1 cup washed lilac blossoms, patted dry (plus more for garnish)
In a large mixing bowl, combine: flour, sugar, baking powder, baking soda, and butter chunks. Using a pastry blender, or your hands, work butter into dry ingredients until coarse, uniform crumbs form. Add almond milk and cottage cheese. Using a spoon, gently combine until just mixed and moistened. Gently fold in lilac blossoms. Turn dough out onto a floured surface and gently pat so dough is one inch thick. Using a floured biscuit cutter, cut out scones. Place scones, 2 inches apart, on a lightly oiled baking sheet. Bake in preheated oven for 13-16 minutes or until set and lightly golden. Transfer to cooling racks to cool a bit before serving. Store completely cooled scones in an airtight container in your refrigerator for up to 5 days. Freeze whatever you won't use within that amount of time.
To serve: Split warm scone horizontally and top with your favorite fruit curd (I used lemon,) and a generous dollop of rose water Devonshire cream (recipe below.)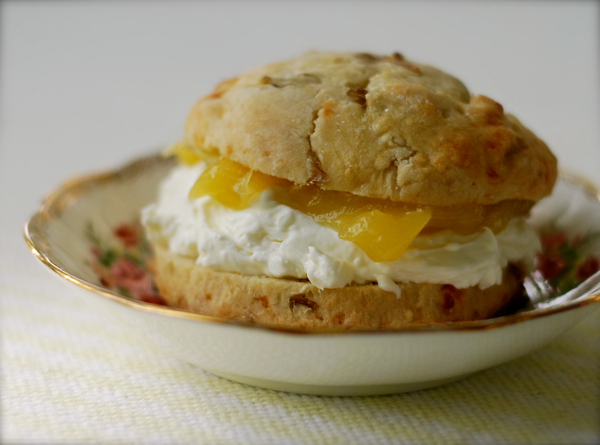 ~ rose water devonshire cream ~
6 to 8 oz. Neufchatel cheese (or cream cheese), softened to room temperature
1 cup heavy whipping cream
2 and 1/2 Tablespoons powdered sugar
1 teaspoon culinary rose water
Mix all ingredients in the bowl of a counter top mixer, using the whisk attachment. Beat on low speed just to combine ingredients and then turn the mixer up to medium high and beat until smooth and fluffy (3 to 5 minutes.)
Place in a jar with a tight fitting cover. This will keep in your refrigerator for 5 days.
Enjoy!
~Melissa
You may enjoy these related posts: