Print Friendly Version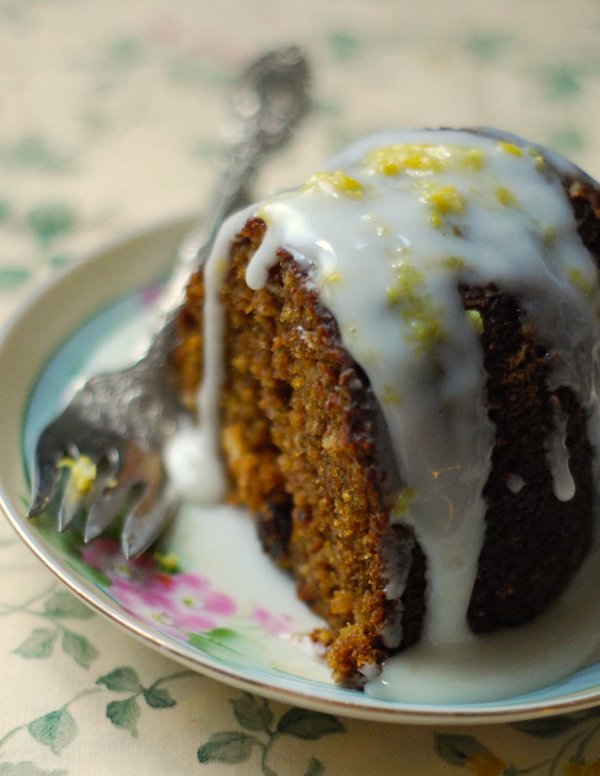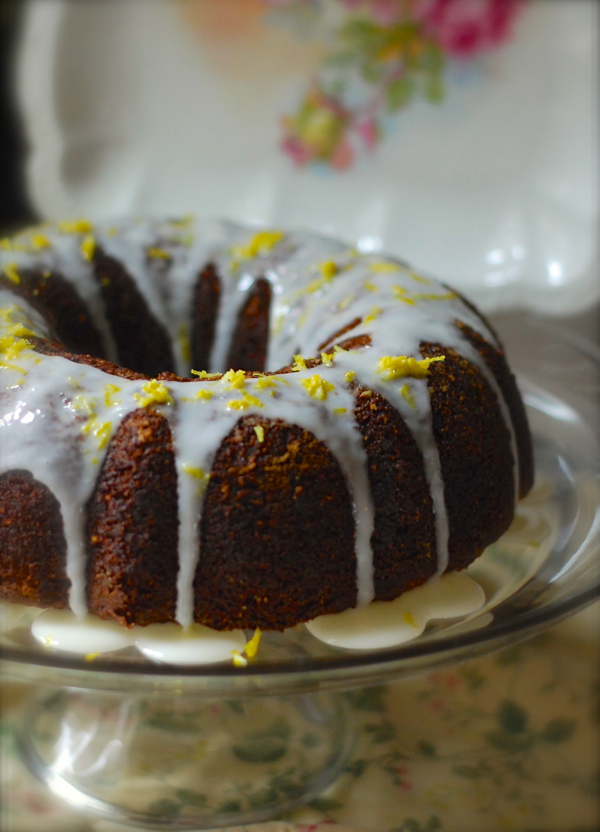 I love to wake up to the smell of coffee brewing and a yummy, moist coffee cake to go with it. Lately I've been opting for the more healthy, protein-rich breakfasts. But… once in awhile I like to indulge my sweet tooth.
This coffee cake is sweet, super moist, gluten free and high in fiber. It does have sugar in it so I won't go as far as calling it guilt free or health food… but it's WAY better for you then the ones with all the white flour and shortening. Plus, it has lots of fruit and shredded carrots! That's gotta count for something! 😉
PS… you can make your own quinoa flour by simply grinding dry quinoa in a clean coffee grinder until it turns into flour.
~ preheat oven to 350 degrees F. ~
1 and 1/2 cups brown sugar
4 large eggs
1/4 cup olive oil
1/4 cup butter or virgin coconut oil
1 cup pure pumpkin puree or pumpkin butter
2 teaspoons bourbon vanilla extract (I used Trader Joe's)
1 cup gluten free all-purpose flour
1 cup quinoa flour
2 teaspoons baking soda
2 teaspoons baking powder
1 teaspoon cinnamon
1 teaspoon pumpkin pie or apple pie spice
1/2 teaspoon ginger
1/2 teaspoon nutmeg
1/4 teaspoon ground cloves
1 and 1/2 cups grated carrot
1 cup grated coconut
1/2 cups raisins, sultanas or craisins
Butter and flour a bundt pan.
Mix sugar, eggs, oils, pumpkin and vanilla in a large mixing bowl. In a separate mixing bowl, combine the flours, baking soda, baking powder and spices. Add the dry ingredients to the wet ingredients and stir just until everything is moistened and evenly combined. Fold in the carrot, coconut and raisins.
Pour into prepared bundt pan. Bake for 45 minutes or just until a wooden skewer inserted into the cake comes clean.
Cool completely before sprinkling powdered sugar over… or, if you're an icing fan…
for the lemony greek yogurt icing:
1 cup powdered sugar
1 Tablespoon greek yogurt
1 Tablespoon lemon juice
zest of one lemon
Combine sugar, yogurt and lemon juice in a small bowl until smooth. Pour over cooled cake. Top with lemon zest.
Enjoy!
~Melissa
You may enjoy these related posts: