Print Friendly Version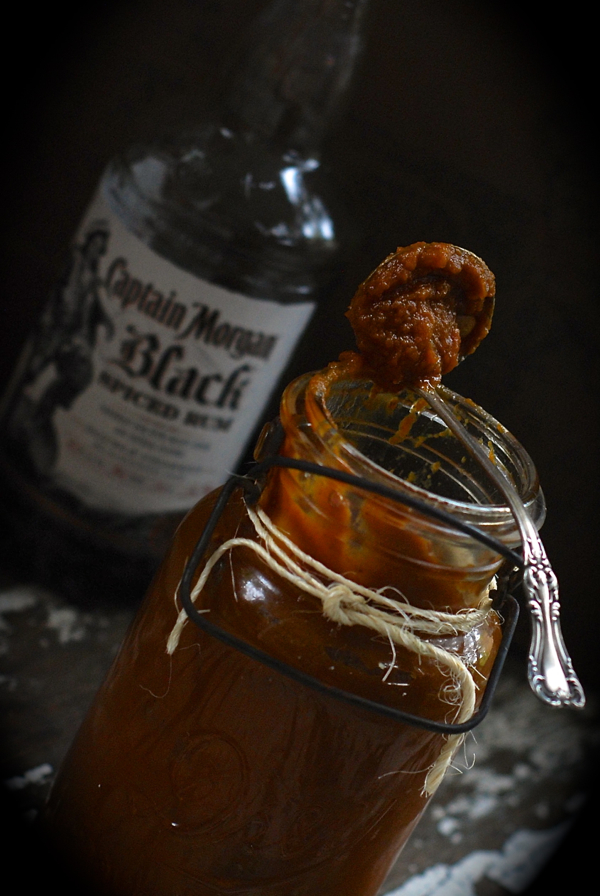 Today I'm hanging out at home, creating new muffin and bread recipes to share with you. Some of my minimalist chicken soup is simmering on the stove top and I'm wearing a sweater and slippers so I can have all the windows open and enjoy the cool, rainy day. The fireplace is at full roar too, so it's a nice contrast of crispy and fally (is that a word?) and cozy.
A couple nights ago I started working on more Captain Morgan Spiced Rum recipes. I was contacted by Captain Morgan and they sent me two free bottles of their spicy brew so I could make more creations like THIS RUM CAKE. I am so honored! What a fun, inspiring project. I have all sorts of ideas and brainstorming lists going. What would you make?
This pumpkin butter is wonderfully easy, delicious and versatile. It's rich, dark and "boozy." Use pumpkin butter as a toast or cake topping, a thickener for homemade bbq sauce, as a marinade/glaze for grilled pork or chicken, as a filling for donuts or truffles, or in place of applesauce for muffins and quick breads. It's wonderful swirled into your morning oatmeal, or layered in a parfait glass with greek yogurt and cinnamon apple granola. Little jars of this would make lovely and unique hostess gifts for Thanksgiving, Christmas or other holiday gatherings.
1 (29 oz.) can pure pumpkin puree OR approximately 1 lb. fresh cooked pumpkin (mashed well)
1 cup dark brown sugar
1/2 cup tart apple cider
1/2 cup Captain Morgan's Black Spiced Rum (divided)
1 teaspoon pure vanilla extract
1 teaspoon cinnamon
1 teaspoon ginger
1 teaspoon nutmeg
1/4 teaspoon allspice
3 teaspoons balsamic vinegar
1/4 teaspoon salt
Combine all ingredients in a small (2 to 3 quart) Crock Pot or slow cooker. Reserve 1/4 cup of the Captain Morgan's Black Spiced Rum. Cover the slow cooker and turn it on the "Low" setting. Allow the pumpkin butter to cook for 4 hours. Stir, cool completely, and add the reserved 1/4 cup rum. Mix well and transfer to canning jars. Cover and refrigerate up to 10 days, or freeze in freezer-safe jars or containers for up to 6 months.
Enjoy!
~Melissa
You may enjoy these related posts: