Print Friendly Version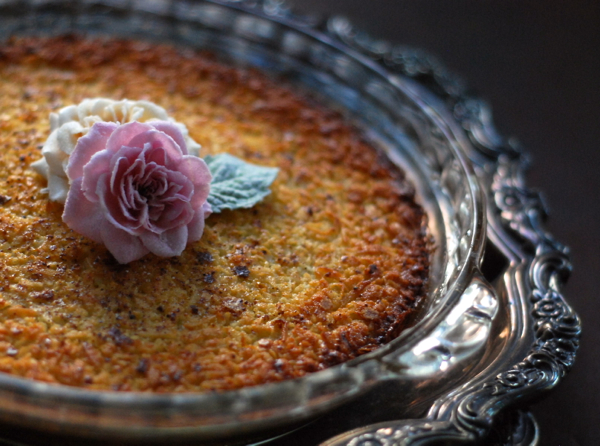 Jeff and I went for a walk to the market this morning even though the sky has been threatening rain. It's so nice to get out of the house and breathe in the autumn air. When we returned I got busy typing away in my studio. I finally have all of the text ready to go for the e-book. I'm so excited about sharing it with you!
Tomorrow is the beginning of a four day weekend. Gracie is home for MEA, and tomorrow we're having a tea party with Andie and Chloe and possibly going to get Chinese food for lunch. I've been craving eggrolls and orange chicken for about a week. It's time!
Here's a yummy and VERY easy pie you can whip up in no time. It's sweet and custard-like. It makes it's own crust and I just love the buttery coconut topping. I've come across several different recipes for this pie, and in the end I decided to work with a recipe I found in Food & Wine. I tweaked it a little, and oh my….is it ever good!
1/4 cup unsalted butter, melted + more for the pan
3/4 cup sugar
2 large eggs
1/2 cup self-rising flour
1 cup sweetened, shredded coconut
1 cup whole milk
1/4 teaspoon salt
1 teaspoon coconut extract
Preheat oven to 350 degrees F. Butter one 9 inch, glass pie plate.
In a large bowl, whisk melted butter with the sugar. Add the eggs and beat until smooth. Stir in the flour, coconut, milk, salt and coconut extract. Pour into prepared pie plate, and bake in the lower third of the oven for about 1 hour, or until the pie is firm to the touch and golden. Cool on a wire rack completely before cutting and serving. This was wonderful with a drizzle of chocolate syrup!
Enjoy!
~Melissa
You may enjoy these related posts: