Print Friendly Version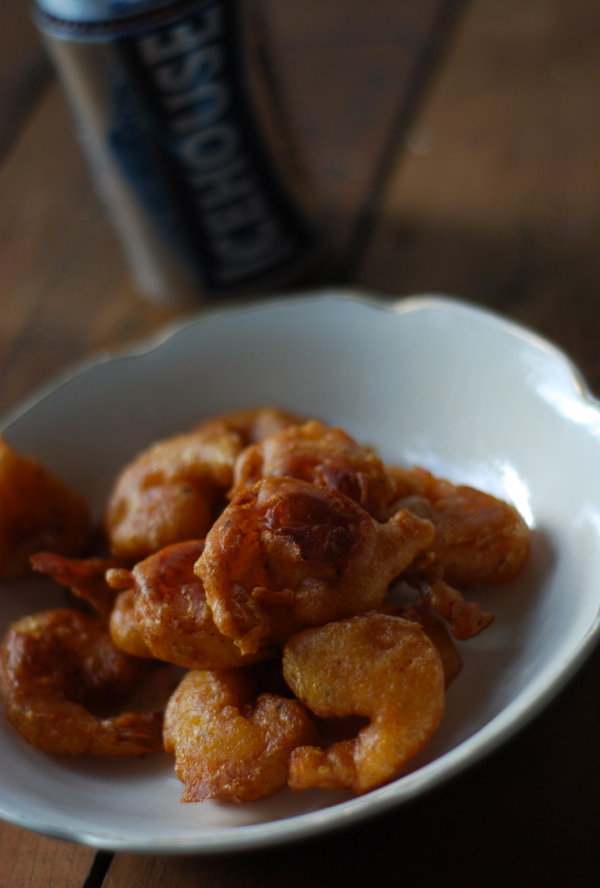 The weeks are flying by! I can hardly believe it's already Friday again. We've been busy working on a bunch of different projects. All good things, so I can't complain. I'm looking forward to date night on the deck tonight. We're sipping some delicious wine and grilling up strip steaks. We'll be serving them with: greek yogurt & chive mashed potatoes, a simple baby spinach salad (topped with balsamic, olive oil, sea salt, fresh ground pepper, a little fresh minced garlic and a sprinkle of sugar), warm homemade applesauce, and nut goodie for dessert.
Jeff has been experimenting in the kitchen this past week and he made some fabulous beer batter fried shrimp. This recipe is a winner. The batter is perfect! I just had to take a quick photo of this and share it with you. Thanks, Hubby!
for the shrimp:
2 lb. large fresh shrimp (peeled, deveined with the tail still on)
2 to 3 Tablespoons chipotle powder
for the beer batter:
1 cup flour
1 teaspoon salt
1 teaspoon sugar
1 teaspoon baking powder
1/2 cup to 1 and 1/4 cups beer (Jeff used Icehouse)
1 Tablespoon hot sauce (Jeff used Sriracha)
Place 1 and 1/2 inches vegetable or canola oil in a deep, heavy-bottomed skillet. Heat until temp. reaches 375 degrees F.
Lightly dust the fresh shrimp with the chipotle powder. Combine the flour, salt, sugar and baking powder in a large mixing bowl. Whisk in beer and hot sauce and mix until smooth. Batter will be thick. Thin with extra beer if needed.
Working in batches (you don't want to crowd the pan) add some of the seasoned shrimp to the batter and coat it completely. Using tongs, carefully transfer the battered shrimp to the hot oil. Cook for approximately 4 minutes, turning constantly, until the shrimp is golden brown and completely crisp.
Remove cooked shrimp to a paper towel-lined plate.
Serve with cocktail sauce, hot sauce, lemon wedges and ice cold beer.
Enjoy!
~Melissa & Jeff
You may enjoy these related posts: