Print Friendly Version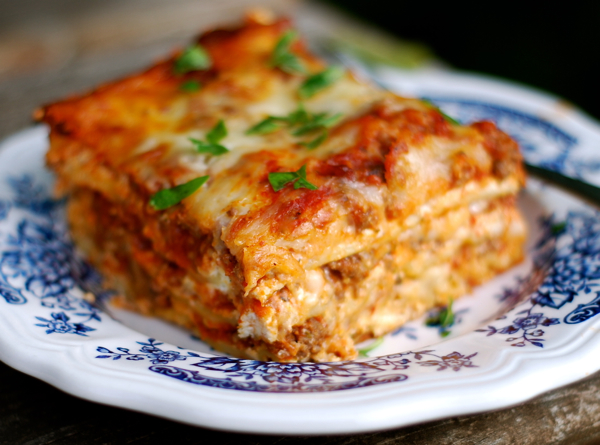 Before I made a pan of this creamy, cheesy, delicious lasagna, I wondered what could be better than the classic version I grew up with. When I took my first bite of this, I answered my own question. Oh, man. This is so good. I love how easy it is to prepare, and how cream cheese is the perfect lasagna ingredient that's been missing my whole life. Who knew?
I loosely adapted this recipe from one I found on the Kraft website. I change it up about 5 or 6 times, so it's not really the same at all. Just thought I'd tell ya'all where I got my inspiration.
Oh, and if you use Italian sausage for this you can omit the onion powder, oregano, and fennel. Or don't. Whatever floats your boat.
~ preheat oven to 375 degrees F. ~
8 to 10 servings
2 lb. lean ground beef OR bulk Italian sausage (sweet or spicy)
2 heaping Tablespoons dried oregano
1 heaping Tablespoon onion powder
1 heaping Tablespoon fennel seeds
2 (24 oz.) jars of your favorite spaghetti sauce OR homemade sauce
12 to 16 no-boil lasagna noodles
1 large egg, lightly beaten
8 oz. full fat cream cheese, softened to room temperature
8 oz. full fat sour cream OR whole milk plain Greek yogurt
1/2 cup grated or powdered Parmesan cheese, divided
2 large cloves garlic, minced
16 oz. shredded Mozzarella cheese
fresh basil for garnish
Brown meat. Drain well. Add spaghetti sauce and spices (if using.) Simmer for 5 minutes, stirring occasionally. Remove from heat and set aside.
In a medium mixing bowl, combine: the egg, cream cheese, sour cream, half of the Parmesan cheese, and the minced garlic. (I used my Kitchen Aid for this and it worked like a charm.) Set aside.
Lightly coat the bottom of a glass, 9×13 baking dish with some of the meat sauce. Top with a layer of 4 noodles, breaking as necessary so they make one layer that covers the meat sauce. Next, smooth 1/3 of the cream cheese mixture over the noodles, followed by 1/3 of the meat sauce, and 1/3 of the shredded Mozzarella. Repeat until the rest of the ingredients are used up and top everything with the rest of the Parmesan cheese.
Cover pan with aluminum foil so it's slightly tented on top. That way the cheese won't stick to the foil. Place in oven and bake for 45 minutes, or until lasagna is hot all the way through. Remove foil, return lasagna to oven, and bake an additional 15 to 20 minutes, or until hot, bubbly and golden brown on top.
Remove from oven and allow to cool for 20 to 30 minutes prior to serving. Cut into pieces, plate, and garnish with some fresh, torn basil.
Enjoy!
~Melissa
You may enjoy these related posts: