Print Friendly Version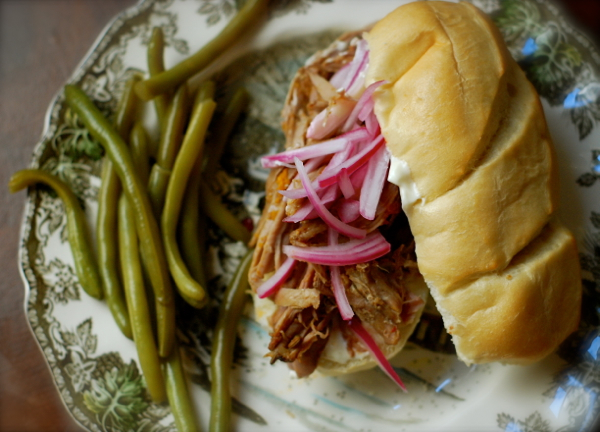 Here's a little recipe for Minnesota porketta (sometimes spelled "porchetta") that I adapted from an old cookbook I discovered at an antique shop here in Red Wing. The original recipe is from the late 1800s and is much more complicated than mine. At some point I'd love to try the old fashioned one from the book. It describes a succulent roast that slow cooks in a smoker over oak wood chips all day, and I'm sure it's heavenly.
The book describes how the melting pot of citizens in Minnesota, (Germans, Swedish, Italian, Norwegian, and Canadian), all used different seasonings to flavor their porketta, but what they all agreed on was starting with a big, somewhat fatty, piece of smoky pork.
Being the slow cooker enthusiast that I am, I decided to create a recipe for this Midwest favorite and make is ultra easy by using my Crock Pot. It turns out amazing. Don't skip the pickled onions. They make a great sandwich absolutely phenomenal. I hope you love this as much as we do!
You can use a pork tenderloin for this recipe, if you must. Just make sure to turn off the slow cooker as soon as the meat is done. Tenderloin is a much leaner cut of meat and may dry out if overcooked.
Serve the pork over the baby potatoes that cook in the pot at the same time, or serve it on rolls, as we do, and serve the potatoes on the side.
2 lb. baby red potatoes
1 cup chicken stock or broth
4 lb. pork butt/shoulder or tenderloin roast
2 teaspoons liquid smoke
2 Tablespoons brown sugar
1 Tablespoon sea salt
1 Tablespoon smoked paprika
1 heaping Tablespoon onion powder
1 heaping Tablespoon fennel seeds
2 teaspoons garlic powder
bakery buns (if using)
1/2 cup real mayonnaise + 2 heaping Tablespoons prepared horseradish
pickled red onions (recipe below)
Place potatoes in bottom of 7 to 8 quart slow cooker. Top with broth. Rub roast with liquid smoke. Combine brown sugar, salt, paprika, onion powder, fennel seeds, and garlic powder in a small bowl. Mix well and rub this mixture all over the roast, using it all. Place roast on top of potatoes in slow cooker. Cover and cook on the  LOW setting for 8 hours or until roast is hot all the way through and easily shreds with two forks.
To make a sandwich: Split a roll. Spread some of the horseradish mayonnaise on both halves of roll. Top bottom half with a generous portion of the shredded pork, followed by some of the pickled onions. Enjoy with your favorite pickles and/or chips.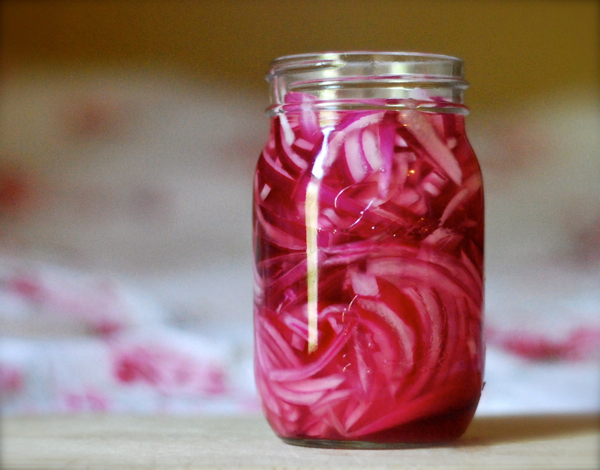 ~ pickled red onion ~
1 large red onion, cut into thin slivers
3/4 cup apple cider vinegar OR white vinegar
3/4 cup warm water
2 Tablespoons sugar
1 teaspoon sea salt
Pack onion into a clean glass canning jar.
Place vinegar, water, sugar and salt in a stainless steel or glass mixing bowl. Whisk until sugar and salt dissolve completely. Pour over onions in jar. Cover tightly. Place jar in refrigerator and allow the pickled onions to marinate for at least 4 hours prior to using.
Enjoy!
~Melissa
You may enjoy these related posts: