Print Friendly Version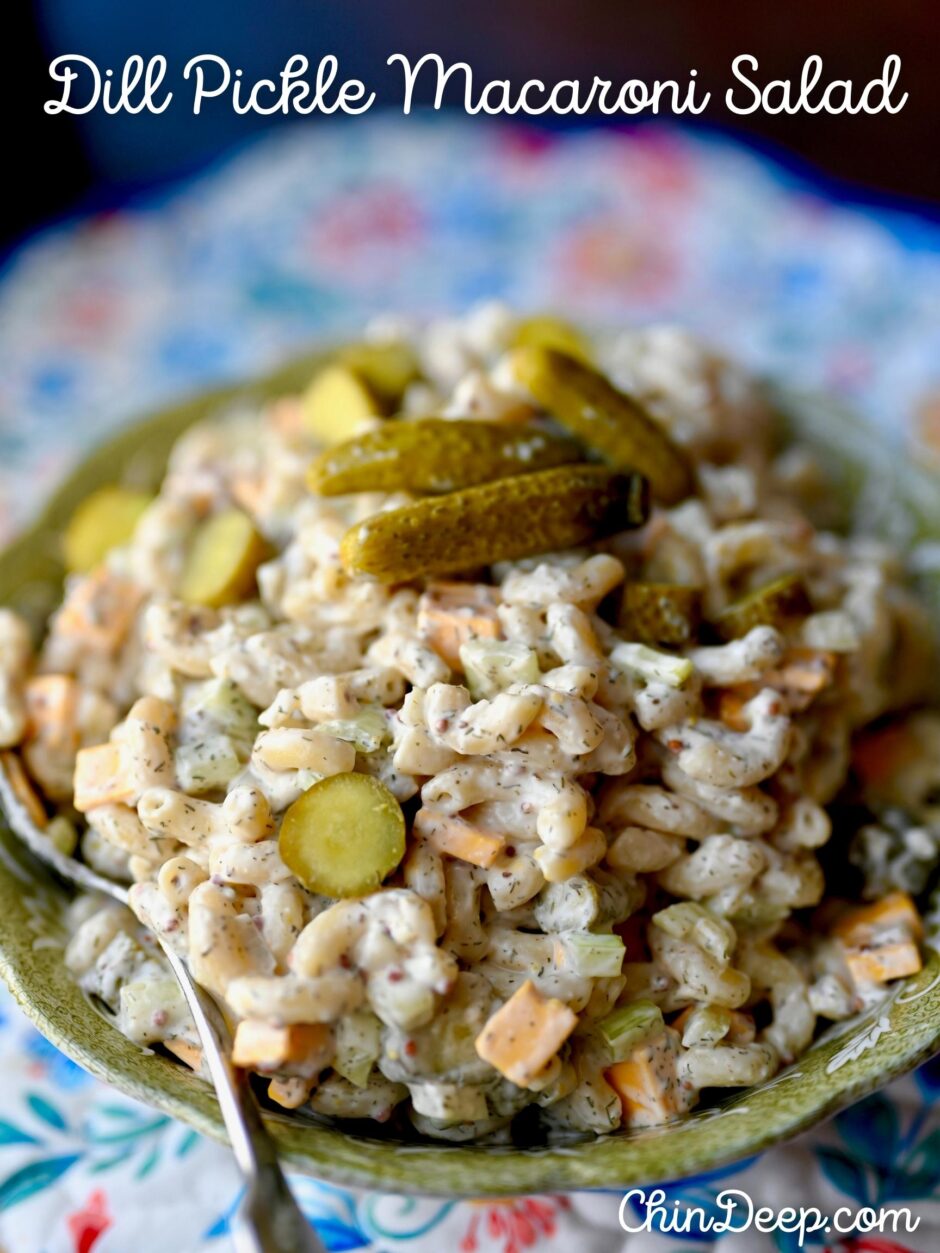 Are you one of those people who loves dill pickles in everything? Me too. I'm always coming up with new ways to add some pickle pizzazz to my recipes. They're so good! So far I've managed to successfully incorporate them into a lot of stuff. Like, dill pickle grilled cheese sandwiches, dill pickle pizza, and dill pickle potato salad. Everyone loved these dishes! Some other tried and true favorites using dill pickles are: ham and cream cheese pickle roll-ups (that can easily be made vegan using vegan ham slices and vegan cream cheese), fried dill pickles, and corn relish! I have plans for LOTS more dill pickle recipes, so stay tuned!
Okay, so now we can focus on this macaroni salad. It's so easy and SO good. I made a huge batch of dill pickle macaroni salad yesterday so I could split it with my daughter who is also a dill pickle nut. And she loves macaroni salad as much as I do. Macaroni salad is so good for quick lunches or as a side for dinner or brunch.
This recipe makes 12 to 16 servings, so if you don't want that much, just cut the recipe in half.
16 oz. macaroni noodles
16 oz. baby pickles + juice from jar (I used baby dills)
1 and 1/2 cups to 2 cups mayonnaise (I use Vegenaise)
8 oz. cheddar cheese, cut into cubes (I use Violife or SO Delicious brand cheddar)
1 cup onion, finely chopped
1 cup celery, finely chopped
3 Tablespoons mild, grainy mustard OR 1 teaspoon Dijon mustard
1 Tablespoon sugar
1 Tablespoon celery seed
1/4 cup fresh dill, finely chopped OR 2 Tablespoons dry dill
1 teaspoon garlic powder
1 teaspoon onion powder
2 teaspoons Lawry's seasoned salt
freshly ground black pepper, to taste
Cook macaroni according to package directions for al dente pasta (approximately 9 minutes.) Drain well and then run under cold water until pasta is completely chilled. Drain well again. Pour pasta into a large mixing bowl along with the pickles and juice. Stir and let the pasta marinate for 5 minutes. Drain pickle juice into a smaller bowl. Slice up the pickles and then add the rest of the ingredients. Stir well. Add a little pickle juice if needed to make the dressing a little thinner. Cover and chill for a couple hours or until ready to serve.
Enjoy!
~Melissa
You may enjoy these related posts: