Print Friendly Version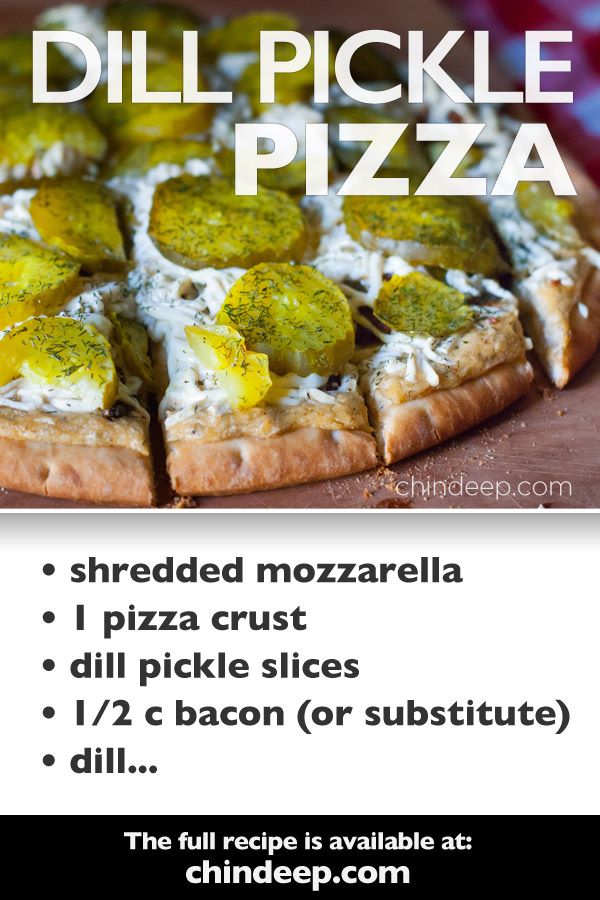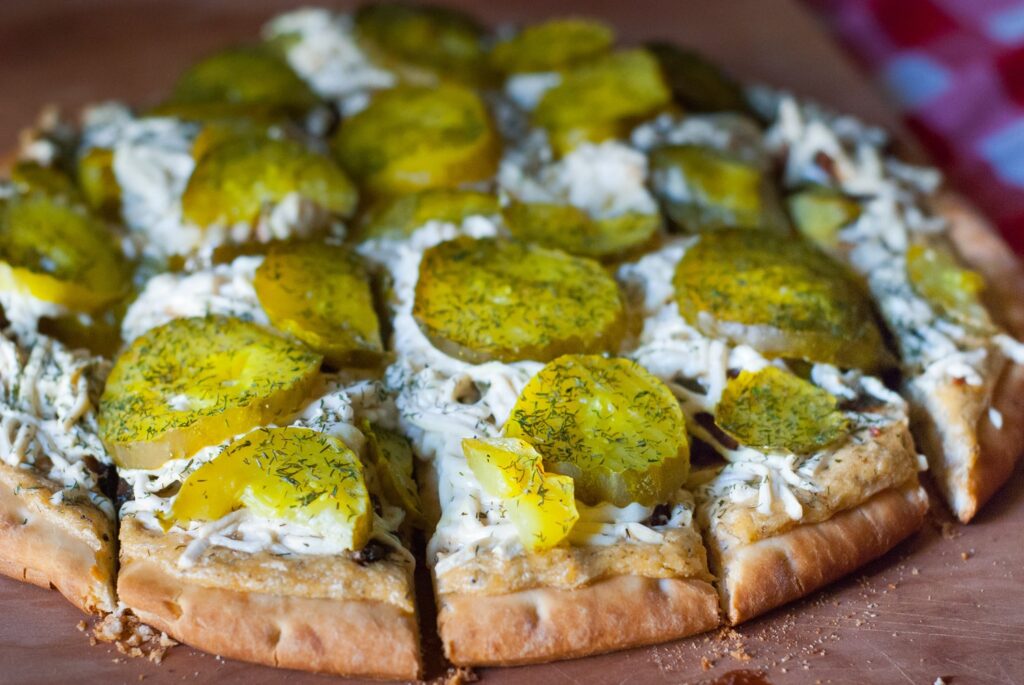 There was a dill pickle pizza craze a couple years back, and I always meant to buy one, or make one. The concept was so interesting to me. Doesn't that just sound good? Dill Pickle Pizza? How can you go wrong? I mean, if you love dill pickles like I do.
Well, I finally did it. I made one! Now that I have I can't believe it took me so long. What in the heck was I waiting for?
Now that I'm vegan I made a vegan version of the pizza and it was nothing short of spectacular. I mean, REALLY delicious! I decided to use the general recipe for QC Pizza's dill pickle recipe because they were really the ones who started the craze with their "Kind of Big Dill" Dill Pickle Pizza. They have a little pizza shop in Mahtomedi Minnesota, which is pretty cool since I lived next door to Mahtomedi for 10 years before moving to Red Wing. Kismet.
Substituting plant-based ingredients for this pizza was easy. The only ingredients that I had to swap out were the creamy garlic dill ranch sauce, the bacon, and the cheese.
Follow the recipe links below for the vegan ranch, and the cashew cream.
for one dill pickle pizza (feeds 2 to 4 people)
~ preheat oven to 400 degrees F. ~
1 (12 to 14 inch pre-made pizza crust)
approximately 1/3 cup vegan ranch dressing
approximately 1/3 cup cashew cream
1/2 teaspoon yellow mustard
1 large garlic clove, minced
1 teaspoons dill (divided)
1/2 cup to 3/4 cup crumbled vegan bacon (recipe below)
8 oz. shredded vegan Mozzarella cheese (we used Daiya)
dill pickle chips (as many or as little as you like), patted dry
Make the vegan bacon in advance and store in your refrigerator until you're ready to make the pizza.
In a medium bowl, using a wire whisk, mix the vegan ranch dressing, cashew cream, yellow mustard, minced garlic, and 1/2 teaspoon of the dill.
Spread this sauce evenly over the pizza crust. You'll probably have some sauce left over. You want a generous amount of sauce, but not so much that your ingredients are swimming. Use about as much as you would a traditional red sauce.
Top sauce with a layer of the bacon crumbles, prepared dill pickle slice, all the cheese, another layer of pickles, and a sprinkling of dill (up to 1/2 teaspoon.)
Place on a baking sheet and bake in preheated oven for 12 to 15 minutes, or until crust is golden brown and cheese is completely melted. The pizza should be very hot all the way through.
for the vegan bacon:
~ preheat oven to 425 degrees F. ~
1/4 cup low sodium soy sauce
2 Tablespoons pure maple syrup
1 Tablespoon liquid smoke
2 teaspoons smoked paprika
a pinch of cayenne pepper
a few grinds of fresh black pepper
14 oz. extra firm tofu (I like Trader Joe's double protein tofu for this)
Pat the extra firm tofu dry using paper towels. Squeeze to remove excess liquid.
Crumble tofu into fine crumbles using your fingers.
Mix the marinade ingredients in a small bowl with a lid. Place the tofu crumbles in the marinade and allow them to marinate for 15 to 30 minutes (or even over night.)
Line a large baking sheet with a Silpat mat or cooking parchment. Spread the tofu crumbles on the baking sheet in an even layer.
Bake 15 minutes. Toss. Bake an additional 15 minutes.
The tofu bacon should be dark and dry when it comes out of the oven, so cook it a little longer if you need to. It will crisp up a bit as it cools.
Store in airtight container in your refrigerator. This bacon will keep for up to 10 days.
Enjoy!
~Melissa
You may enjoy these related posts: